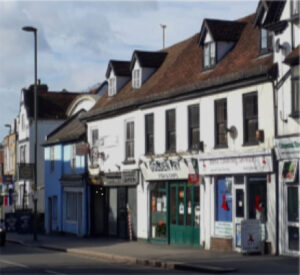 The White Hart once occupied what is now 23-27 Church Street and there was an inn there as far back as at least the 1660s. An earlier name for it was the White Lion and possibly the Five Bells before that. In the 17th Century the owner, Charles Erwin, had a trade token 'HIS HALFE PENY' minted for exchange 'AT YE WHITE (image of a lion) WALLTON-ON-THAMES' (sic) Standing on Walton's main thoroughfare to Hampton Court, Kingston and London, it had a yard for stabling horses and the garden ran down to a property in Bridge Street occupied by a brewery.
By 1700 it was owned by Hannah Barrett followed by her sister Mary Lyme, both the daughters of Richard Blackman whose monument is in St Mary's Parish churchyard. Between 1780 and 1832 it was leased by the Cooper family of brewers. The inn was, over the years, used as a court room for the Hundred of Elmbridge Petty Sessions and as a meeting place by a friendly society.
The Inn closed in about 1902, and the inn sign has already been removed from its frame in the 1902 photo shown here. Today the property has been divided into three shops with the old archway to the yard leading to the Walton Working Men's Club. Now in a conservation area and forming part of the most complete group of 17th and 18th Century buildings in Walton, the old inn narrowly escaped demolition for redevelopment in the 1980s.
Reference: Inns and Taverns of Walton and Weybridge; A.G.Martin. Walton and Weybridge Local History Society 1999. Photo of Church St.1902 courtesy of Elmbridge Museum, Elmbridge Borough Council. Photo of Church Street 2019 by the author.