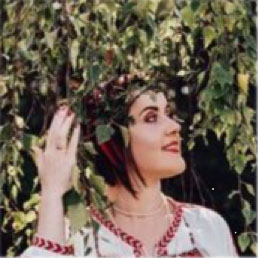 There's a packed programme of events for the whole community over the May Bank Holiday weekend at Walton's Riverhouse Barn Arts Centre…
Walton Folk Festival
Following its sell-out success last year, the Walton Folk Festival returns with another amazing lineup of top folk and acoustic acts set to light up the Riverhouse on Saturday 4 May.
"Walton Folk Festival was a triumph, a sold-out event with afternoon and evening sessions and a lineup of acts that could grace established folk festivals many times its size," wrote Folk Radio in its review of last year's event.
And this year's festival promises to be just as memorable, with an equally impressive lineup of performers. Headlining the one-day festival are False Lights – folk giants Jim Moray and Sam Carter's band who produce "folk rock for the 21st century", Folk Radio described as "two modern masters in perfect harmony" and Songlines describe them as simply "Folk rock brilliance".
Alongside False Light, the festival boasts some of the brightest and best acts on the folk scene: London-based folk singer-songwriter with Russian and Ingush roots Daria Kulesh, BBC Folk Award-winning duo Megson , exciting new folk trio The Trials of Cato, in-demand guitarist and singer Lukas Drinkwater and alt-folk singer-songwriter Hannah Ashcroft. More young and up-and-coming acts will perform in the courtyard.
Food and drinks will be available all day, including a mac 'n' cheese van and barrels of locally-brewed beer. The festival will end at 10.30pm – in good time to catch the train home from the nearby Walton station. Tickets for the festival are available from the Riverhouse Barn website: £30 for the full day, £15 daytime only and £18 for the evening.
Family Folk Day
On Sunday 5 May there's a Family Folk Day featuring a performance of 'I've Lost My Shoes' by folk artists Magpies and Moonbeams at 2pm (£8 children, £2 adults, babes free). Come and stomp your feet, kick up your heels, twinkle your toes and shake your boots on a quest to locate the missing star shoes. Clapping hands and singing voices required – make sure you wear your favourite shoes! Before that, at 11am Magpies and Moonbeams will offer a free Green Man mask-making workshop (good preparation for the parade the next day…).
Sustainable May Fair
On Bank Holiday Monday, 6 May, the Riverhouse will host a Sustainable May Fair from 11.30am to 4pm (free entry). The fair is promoting sustainable and plastic-free living and will feature a May Day Parade with a Green Man theme (bring a home-made Green Man mask made from foliage and recycled material). The parade will start from Cowey sale at 11.30am and end at the Riverhouse.
An outdoor stage at the adjacent Riverhouse Gardens will feature local performers throughout the day, including the Walton and Weybridge Operatic society, Dance happy, Quicksilver, Molesing and many more.
Inside the barn will be a selection of stalls with ethical and sustainable produce. A series of workshops will include maypole dancing, make your own cleaning products, boosting your immune system and refashioning jewellery.