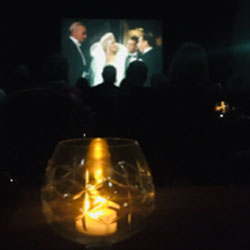 Yes really. Sunbury has its own cinema. Not your regular sort of cinema, but a special one!
Wonderama is the brainchild of friends Anja and Jo who sat in a bar on the South Bank one evening, got inspired after a few glasses of something and decided that really Sunbury needed a glorious cinema. So they approached the Riverside Arts Centre (RAC), the perfect venue and a plan was hatched.
We were lucky enough to go to the opening film before Christmas. It was a welcome escape from the Christmas mayhem and the large hall was laid out with little tables, all with twinkling tea lights. There was tea, 
coffee and cake to buy and take to your place to enjoy before the show. There was a great atmosphere and despite the fact it was a Wednesday morning, there was a good crowd.
We had come to see Some Like it Hot, somehow one of those classics that had passed me by. It was a great choice, light hearted and fun.
Before that though we were treated to an airing of Alice in Wonderland. This original adaptation dated from 1903 and was shot in Walton on Thames in the grounds of Mount Felix which was subsequently used as a 
hospital for New Zealand troops in WW2. This version also starred May Clarke, a film star who lived in Sunbury.
The RAC in fact used to be a silent movie theatre between 1912-16. Interestingly enough it was run by a local who was subsequently uncovered as a German spy. Intriguing indeed.
So, there are lots of reasons why cinema should return to this venue and plenty of nods to the golden age. Even the tickets are classy, printed on brown paper as a throw back to a different era.
Anja and Jo are planning a monthly film. Since Some Like it Hot they have aired Singing in the Rain. The next one will be The Big Lebowski which airs on February 1st. Tickets are available from Skinners and also online at wonderama.cloud. The girls are keen to find out what locals would like so don't be shy, make suggestions.
The line up is looking as follows for the next few weeks. Get your tickets from Skinners or on the door:
February Saturday 1st 7pm for 8pm start The Big Lebowski
February Tuesday 11th 7pm for 8pm start The Breakfast Club
February Wednesday 12th 10am Breakfast At Tiffany's
March 4th Wednesday 10am West Side Story
March 13th Friday 7pm for 8pm start True Romance
March 3rd is being voted on at the moment between Amelie, Cry Baby and Pretty In Pink