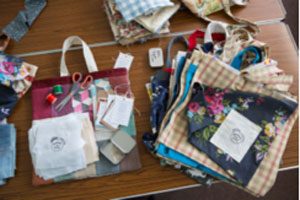 In the quest to reduce plastic, we were thrilled to hear about a local initiative called Boomerang Bags which has taken off in some local areas, but which has huge scope to spread.
The fact from one of the Blue Planet programmes stating that by 2050 there would be "more plastic in the sea than fish" was enough to shock Tricia Bland. More than 300 million tons of plastic are produced every year, 50% of which is for single use. This has to change. Plastic bags are such an obvious lifestyle change. The 5p single use plastic bag charge introduced in 2015 is estimated to have taken 15 billion plastic bags out of circulation.
The plan to increase it to 10p this year is still not high enough. Ban them altogether in my opinion! So, in looking for an alternative, the Boomerang Bags are simply brilliant and a great example of a community pulling together to make a difference.
The idea started took shape in the UK in Tricia Bland's village of Thames Ditton, although the concept came originally from Australia. Sales of sewing machines have soared since the Great British Sewing Bee and there is a huge increase in crafters and 'make do-and-menders'. Thames Ditton's crafty ladies took to the idea with glee. They had books of upholstery fabric samples donated which were just the size of a tote, were given a community room in the local pub to set up and started sewing in earnest.
Local shops agreed to stock the bags and give them out free to customers. The community saw an official launch at their farmers market one weekend when Boomerang Bag kits were given out, complete with instructions and enough fabric for 5 bags. Word spread and the bag making community grew.
Local schools were recruited, taking the activity up as extra curricular or as part of a sustainability project. Youngsters learned a useful skill as well as focusing on helping the environment. Funding was secured from the local council to fund more sewing machines and the Boomerang Bag club grew. Think how much fabric is discarded into landfill. One bag I was shown at the recent Sustainability Fair I attended was made from the curtains of the local boat club! In Thames Ditton the 
local community centre, a pub and a dry cleaners have offered to be drop off places for fabric donations.
Every bag carries a logo and tag (hand made from cereal boxes) explaining that on average one Boomerang Bag replaces 700 single use plastic bags because they are used time and again.
The idea now is to extend this idea. Why not start a group in Sunbury? Who is up for it? We can get the template and information from the BB ladies in Thames Ditton and get going. What a great concept for the high street.
See boomerangbags.org for more 
information. Or contact Tricia Bland directly: tdwgra@the-blands.co.uk 
Or call 0208 339 0485