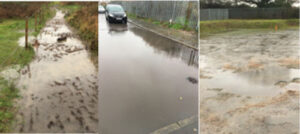 There was standing room only at the public meeting relating to the proposed development of the Stratton Road fields. Known locally as the horse fields, or less poetically, as site 32-o.
The site has been agricultural for many decades. We understand there is evidence of Roman ditches there as well. It is 'home' to horses who graze it (some being rescue horses) and also for bats, newts, owls and countless other creatures, important to biodiversity and the health of the community. It is a much-loved rural idyll within a residential area and is under threat from the local plan to allow the building of a minimum of 260 houses on the site.
Spelthorne Council is being forced by central government to look at delivering a hugely ambitious figure of 603 dwellings per annum across the borough over 15 years. The council is pushing back and has asked the housing ministry to reconsider, using data which better reflects the current population as well as our vast greenbelt (including reservoirs), which restrict planning options. So far this plea has fallen on deaf ears.
Local resident Paul Hollingsworth presented the reasons against developing the fields. 
He talked of risks to health (diminished air quality), risks to infrastructure (schools, health centre, roads) and risks to community (well being, safety, happiness). He made the point that the biggest risk is to do nothing. That is true. So let's make some noise!
Stratton Road was classified as "weakly performing" in the most recent ARUP report which was put together as a consultation. In initial reports in 2018 the same consultant rated the site as strongly performing. So what has changed? Probably nothing, but perhaps necessity!
Although many, the key concerns to development are;
· Flood risk
· Incremental traffic burden
· Pressure on local amenities
Evidence was presented about the current volume of surface water on the site. That water is currently dealt with naturally. Look at what happens when similar places have been built on, evidenced at the entrance and in the carpark next to Bishop Wand on the construction of the new gym. Water has nowhere to go so pools and floods.
Imagine the cars associated with 260 homes. Estimated conservatively at an additional 364 cars, just think about the narrow roads to the site: Sunmead and Rooksmead are already tight. 
Think about the extra places needed at schools and the health centre even if we conservatively reckon on 2.2 per home. That means an extra 572 patients.
Stratton Road residents were also strongly represented at both local plan meetings at Spelthorne council and at the public meeting held by MP Kwasi Kwarteng. Strength of feeling is high.
Hopefully found time to submit your comments about the local plan to Spelthorne Council. A petition to save green spaces, run under 38degrees, attracted over 5000 signatures and was hand delivered to council on the day the consultation closed. This figure should guarantee a debate on the matter.
The petition launched by STOP (The Stratton Road Site Opposition Group) collected 534 signatures and was hand delivered to council offices. Clearly there is strong feeling about retaining this important piece of greenbelt land in the heart of Sunbury.  
The planning process will be ongoing, as will the protest against green belt development. STOP has set up a Facebook group and a website strattonroad.co.uk. Do join to follow progress, make your feelings known and stick up for our precious greenbelt. The rationale is the same as for Kempton Park: environmental, infrastructure, safety, flood risk and access. We must fight on. People power can do amazing things!