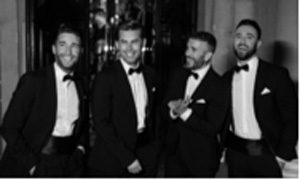 Sunbury boasts many residents of artistic talent: writers, artists and singers. We met up with local singer Mike Crawshaw recently to hear about his rise to fame and his latest exploits with his band, The Overtones.
Mike moved to Sunbury with wife Kerry, a couple of years ago (see left) and is loving the village.
His band, The Overtones, is a vocal harmony group inspired by some of the greats of the 50's and 60's, singing both covers and original songs. Mike didn't discover he had any talent for singing until at 18 he was cast in Jesus Christ Superstar at drama college and found he was quite good at it. He decided to pursue his dream, cutting his teeth at Open Mic nights in London. He joined forces with fellow performers he met on the circuit, set up a band with them and started knocking on the doors of record labels. "It was a bit like Jersey Boys" said Mike "we had a lot of doors shut in our faces" .
The band decided they needed a focus so applied for the X Factor in 2009 making it through to the last boot camp. Rejection at this point was hard to take. None of the members had any money. Mike remembers making a pot of stew on a Sunday and it having to make it last the whole week. They were poor indeed and took the decision to do some painting and decorating to help the cashflow. Working together also gave them the chance to practice during breaks. One of these coffee break singing sessions was heard by a passing pedestrian who turned out to be a talent scout for Warner Music. She arranged a meeting with senior execs and all of a sudden The Overtones had a record deal.
The hard work had just begun and in the early years it was only Warner who made any money. But Mike thinks back fondly of the lucky break they were given and is eternally grateful for it.
Great experiences followed. A performance at the Queens diamond jubilee at Buckingham Palace was one of the "pinch me" moments, with a crowd of 250,000 in The Mall. The New Years Eve party at the Brandenburg Gate in Berlin televised to 20 million is another.
The Overtones is now running their own record label and manage themselves. With new band member Jay James (also of X Factor fame), they will shortly be embarking on their 9th headline tour and it is promising to be another sell out. Their music has wide appeal. Mike says they met a family represented across 4 generations at one of their gigs. As well as a certain nostalgic appeal of some of the great old classics, The Overtones is bringing their own twist to the music. They feel a sense of responsibility to such an important genre, respecting the original but adding their own slant to it as well.
The band also has a deep connection with their fans. The Christmas show is a party, with everyone dancing, even the band members joining in amongst the audience. Mike is very down to earth. He remembers where he came from and does not take the good times for granted. The poor years makes him appreciate success all the more.
When I asked if he had any words of wisdom for youngsters who want to make it big on X Factor and be rich and famous he smiles "my message would be to follow your dreams, don't give up but make sure you enjoy doing what you are doing".
One thing is for sure, Mike will not need to be doing any decorating again!
The Overtones will be performing at G Live in Guildford on December 17th. (info at www.theovertones.tv) We have a pair of tickets for some lucky person. Just email monica@villagematters.co.uk with the title OVERTONES by November 4th. Remember to include your name and address.