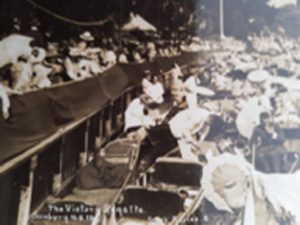 This year is Sunbury Victory Regatta 100 marking the 100th Anniversary of the 1919 'Victory Regatta' which celebrated the end of WW1.
This means that along with 100 races on the river, tug-o-war, live music, entertainment and busy bars you can also expect staff and some competitors to be in 1919 attire.
There will be a '1919' fancy dress competition for children and adults.
The first Sunbury Regatta was the 6th September 1877 and has taken place every year except:
1878 and 1879, no reports appear to exist
1896, abandoned due to a difference of opinion over the date
1914-18 and 1940-48.
The popular fireworks and parade of illuminated boats were mentioned as early as 1880. To this day our Local Mid Thames Yacht Club dresses their boats with lights and proceeds down the rowing course to the delight of everyone, after which there is a spectacular firework display.
The last Waterman's (i.e. professional's) event was in 1913 and was the last Regatta before WW1. A Victory Regatta was held in 1919.
After a 10 year break caused by WW2, the Regatta was reinstated in 1949 under several of the pre-war committee.
In 1961 the Edith Topsfield Children's Regatta asked the Regatta Committee to take over the event. This still runs on the Sunday following the main event and is the only children's regatta on the Thames.
The popularity of the Regatta continued with the introduction of races such as 'Row for your Local' and amusements on Rivermead Island. These were introduced to bring the entertainment from the lost Orchard Meadow Fair back to the community. Since then it has been the Committee's job to make the Regatta a family day out, including amusements for children.
The Regatta is managed by volunteers who meet every month to ensure the smooth planning and running of the event. In August more volunteers come together to build the site, set the river course and then take it all down again. This year work starts on Wednesday 7th August and continues to Sunday 11th August. They need people who can spare any time to help with:
Bucket collections
River team
Bar staff / Gate staff
Construction and breakdown crew
Tombola team
In return you'll meet lots of people, have fun and become part of a Sunbury's history.
If you're a local business of any size they need your sponsorship and advertising. 3000 – 5000 people attend and it costs circa £30,000 to put on the Regatta; it can't be sustained without volunteers or business support. Let's keep this event going.
If you think you can help please contact marcus@sunburyregatta.com