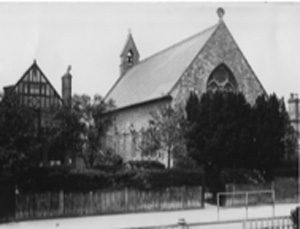 This month St Ignatius Church on Green Street in Sunbury will be celebrating 150 years since its opening in May 1869. The church was opened in a formal ceremony, led by The Archbishop of Westminster, at the time, Henry Edward Manning, who travelled up from London on Trinity Sunday to lead the congregation in Mass.
To mark this anniversary the current Archbishop of Westminster, Cardinal Vincent Nichols, will journey to Sunbury to lead the celebrations with Mass in the church on Sunday 19th May.
The church itself was the vison of one man, the parish priest Father James Richardson Browne. Father Browne arrived at the then Sunbury Mission in 1867 and was appalled to see the crowded cramped conditions the local Catholic population, which numbered nearly 600, had available to them for the celebration of Mass.
The chapel, at Laurel Cottages, just north east of Sunbury Station, had been converted from a stable for use as a schoolroom during the week and a chapel on Sundays.
In a letter to the Catholic newspaper The Tablet appealing for donations to build a permanent church Father Browne, described the chapel as "poor in all respects, with few benches, altar-furniture of the most ordinary kind, bare and naked walls, and is in every way unworthy of a mission so near to London".
Most of the Catholic population of Sunbury were of Irish origin, their families having left Ireland a generation before to escape the infamous Irish potato famine of 1846 to 1848. They laboured in the market gardening operations that were prevalent in Sunbury, or on building the railway and the waterworks at Hampton. Many of these families were not able to give a money but instead gave by donating their labour, often toiling after a full day's work.
By July 1868 the groundwork for the new church was dug and the foundations had been laid by the volunteers, under the supervision of a Mr John Desmond. By July 1868 the work had progressed sufficiently for Archbishop Manning to visit the
parish on 21 July 1868 to lay the foundation stone.
As noted by The Tablet at the time, this ritual was a cause of great celebration for the parish. The ceremony was attended by many who had donated to the cause. A significant number came from London, as Sunbury was now easily accessible by the newly built railway line.
The Archbishop addressed those present and praised them for being "true children of the Catholic Church by toiling to raise a Sanctuary". He also appealed for alms for the church and the collection raised an impressive £34 14 shillings.
Less than a year later Archbishop Manning returned to open formally the church on 23 May 1869 – Trinity Sunday. The Archbishop was full of congratulations for Father Browne and the congregation. He again praised "the laboring men who of course had not much money to contribute".