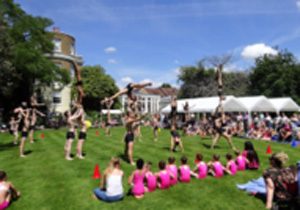 Sunbury Open Gardens is an annual fixture in village life. It has been running since 2003, originally an idea for fundraising to support the Millenium Embroidery and St Mary's church tower. Sue March was asked if she would open her garden for an event proposed by David Brown, one of the driving forces behind the Embroidery Gallery. That was the start of what became a village institution.
There are usually six gardens, but sometimes more, with owners on hand to chat to their guests. Each garden had some other form of money making; plants, books, teas, ice cream and raffle.
The team of volunteers also grew in number: Malcolm Hill followed by Sue and George March, Mike and Sue Pratt then Pat Crisp.
2008 saw fame abroad, as a Japanese film crew made a documentary showing village life events in England, and Sunbury Open Gardens was the star.
2010 and Philip Hodges came on board sponsoring sign boards advertising the event, as the council had banned poster sticking. A children's competition was also introduced.
Eight gardens opened to celebrate the 10th year in 2012, and scarecrows mostly with an Olympic theme, decorated the scaffolding in the church.
2014 saw the event cancelled due to the recent floods and the ill health of several committee members.
2016 Open Gardens was the same day as the Queen's 90th birthday, so extra celebrations were in order. Spelthorne council sponsored a flower festival in St. Mary's. The uniform groups paraded in pouring rain past Alfred Friday who was Mayor of Spelthorne that year, showing what we 'Brits' do best, carrying on regardless. Inside the church the ATC band played.
Finally the sun came out as we all sighed gratefully, just in time for Morris dancers to perform in the churchyard.
2017 the new Mayor Vivienne Leighton decided to spend the day visiting the gardens, enjoying a spectacular performance from Spelthorne Gymnastics on the lawn at Monksbridge (seen below).
It has been an amazing time and has given pleasure to so many.
But 2019 unfortunately will see the demise of this event which had become so popular in Sunbury's events calendar. A couple of years ago the committee warned that without new gardens the event could not continue.
The group of valiant volunteers have had a lot of fun along the way, made many new friends, and raised about £90,000 for worthwhile causes: Princess Alice Hospice, Shooting Star Chase, The Millennium Gallery extension, Impossible Dream and St. Mary's are the charities this year, so we have come full circle.
The committee is grateful to everyone who has helped in various capacities, and of course sponsors and donors. It is sad when such a village event comes to an end, but there comes a point when the hard working volunteers feel enough is enough and that is where they are at now.
Open Gardens will be on June 2nd 11-5pm
Tickets in advance from Van Wonderen, Skinner and the Embroidery Gallery or on the day on the door of the gardens.