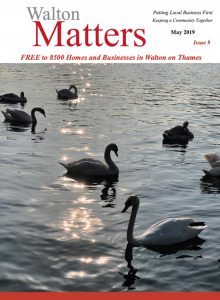 Welcome to the May issue. Easter has now gone, spring is firmly here and next month's issue will be the first of
summer. Fantastic.
The Walton Beer Festival is also just around the corner (Page 8), a true sign of the good things ahead.
You might remember last month, we started a feature on old advertising from the Walton Review in the 1950's. Go to Page 10 to read about the memories of two readers, and to Page 32 for this month's blast from the past.
Local historian John Pulford continues his look at the pubs and inns of Walton, we take a look at the game of real tennis and invite you all for a great day out in Bushy Park for Chestnut Sunday. In fact there are quite a few things in the magazine to keep you busy this month.
Have a great May and see you next month.