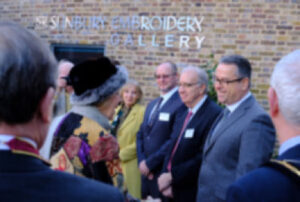 Sunbury was honoured to receive another royal visit recently. Princess Alexandra visited the Walled Garden to see the Sunbury Millenium Embroidery while she was in the area also visiting the Swan Sanctuary.
She was accompanied by Lord Lieutenant of Surrey, Michael More-Molyneux. Also in attendance were the High Sheriff of Surrey, the Mayor Spelthorne and distinguished guests and councillors. Most importantly this was the largest gathering of those who had been most closely involved in the creation of the Sunbury Millenium Embroidery.
HRH Princess Alexandra closely examined the embroidery, talking to each and every person in the gallery about their involvement. She was warm and genuine and clearly very impressed with the work.
She also proved to be extremely fond of children. She greeted one toddler in arms with enthusiasm when she arrived and when one little girl couldn't contain her excitement and threw her arms around her, she was delighted. The little girl was in fact David Brown's grand daughter who was there with his daughter Amy and widow Sally. David had been the driving force behind the creation and execution of the embroidery. Amy turned to the delighted princess saying "For a 5 year old girl to meet a real princess is something rather special".
Staff at the gallery were clearly enamoured with H.R.H and who could blame them. The afternoon visit went so smoothly. Sunbury had even laid on the best weather possible and squirrels peered curiously at the gathered crowds. There were so many guests that a marquee had been set up outside. It was a bit chilly but we were kept warm with tea and home made nibbles, not to mention the very efficient gas burners.
"We didn't expect H.R.H. to stay so long." said Barbara Robertson "She was taken with the embroidery and over ran in the gallery asking the embroiderers about their pieces. I think she shook hands with nearly everyone."
It was a really enjoyable day and a great opportunity to hear about the future plans for the gallery. We will be bringing you more news on that in next month's issue