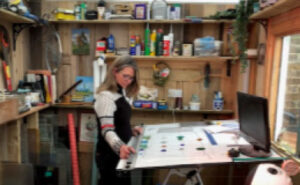 Peco is not strictly speaking a new business. In fact it is a very well established business, having been trading in Hampton for 45 years.
Peco specialises in period fireplaces and doors as well as bespoke stained and etched windows.
Shepperton resident Nicola Lewis took the business over from her father some 10 years ago but only recently relocated the business to Shepperton. When the landlord of the Peco premises in Hampton decided he wanted to sell to developers the option of downsizing appealed, so Nicola packed up.
Now operating from a studio, the service and range of products remains as it was before and a full range of products is available via the website (www.peco-of-hampton.co.uk). We went to visit to see how Nicola works. She became involved when she was a teenager, did an apprenticeship and learned the trade before joining her dad at the business.
It is clear that she is passionate about her work. She has a network of top trades that she can tap into so she can be sure that the doors she refurbishes will be properly hung and windows, radiators and fire places will be installed correctly.
When we visited the studio Nicola was laying out a stained glass design for a client. She will deal with the process from scratch, working with the client to establish design, colour palette and budget to laying out the glass and leading it, before arranging installation.
The transformation from a plain glass window to a statement piece allowing coloured light to filter into a room is stunning.
The piece above features an antique glass panel which has been set with modern pieces of glass to complement the colours. It is above the front door in Nicola's own house.
Nicola clearly loves the whole process and prides herself in being able to see what will suit a room. She caters for all sorts of requirements, from humble cottages to the grandest house, from a small bedroom fireplace to on fit for a period dining room, and everything in between. Whether bespoke pieces of refurbishment of existing, the transformation to a property is incredible.
The Peco strapline is "We bring the past into the future". This is exactly what has happened to this well established local business which has now taken root in Shepperton for the next chapter in its history.
www.peco-of-hampton.co.uk
Tel 0208 979 8310
shop@pecoofhampton.com