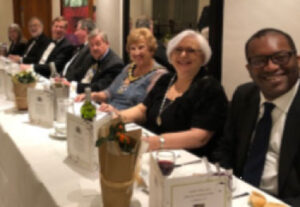 The 50th anniversary of the Sunbury Probus Club was a special evening with some high ranking VIPs in attendance. The Mayor of Spelthorne, Cllr Jean Pinkerton was joined on the top table by MP Kwasi Kwarteng and the Lord Lieutenant of Surrey, Michael More-Molyneux who was visiting Sunbury for the second time in a week.
The name PROBUS combines PROfessional BUSiness and is an international group for retired businessmen (women's clubs do also exist). They meet regularly to promote social contact and good fellowship. The early clubs were sponsored by local Rotary clubs. Probus Sunbury was set up in 1969 with a £10 donation which current club chairman David Leitch was delighted to return to Rotary president Richard Black. There was some discussion about interest and inflation but £10 it was!! In todays money that would have represented more than £1500 so it was a generous donation at the time.
Sunbury Probus was only the 7th Probus club to be established in the UK. The first chairman of Sunbury Probus was Mr R E White, a local government officer of 40 years standing before retirement. The group's inaugural lunch was on January 28th 1969 at the Sunbury Sports Association on Lower Hampton Road with 24 in attendance. At its peak membership ran at around 70 members.
The club continues as a social club, running regular lunches with a speaker A diverse range of topics from travel, history, literature and local landscapes has been covered. The group also organises theatre visits, days out and longer trips. Wives, partners and female friends are welcomed at these events. The club has raised money for local charities which are selected by the committee every year. Since 2001 the Chairman's charity has donated £17,500 to good causes, mainly small local charities.
Original members have passed on, but there are some very long standing attendees who still benefit from the warm camaraderie that the group offers. There is a desire to attract new blood however. The need to belong, maintain professional connections and socialise is key to a happy retirement, so if this sounds like you, or someone you know, don't hesitate to get in touch with Probus Sunbury. To find out more please contact David Priddy on 01784 245989.
We wish Sunbury Probus congratulations for 50 years in existence and hope you continue to support local causes and retired businessmen for many years to come.