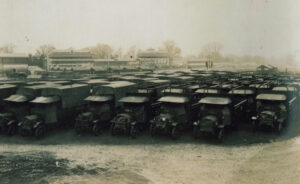 This photo shows dozens of military lorries lined up at the Army Service Corps Depot, Kempton Park, during the First World War. The racecourse grandstands can be seen in the background of the picture with, just in front of them, wooden huts used to house all the troops based at the depot. Although we think of the army as having used mainly horse transport during the war, the British Army was in fact the most mechanised in the world.
Places such as Kempton Park were requisitioned for the duration to receive new lorries from manufacturers, and also damaged vehicles coming back from service, for subsequent refurbishment. Those seen in the photo have the name 'Napier' on the covers over their radiators, a manufacturer based at Acton who were one of many firms who turned production over to the war effort.
Note that the lorries were not parked on the racecourse itself, rather the land inside the track – just as well as when wet weather arrived, parts of the vehicle park were churned up into a muddy swamp. Caterpillar tractors and four wheel drive trucks were necessary to pull stranded lorries out of the mire.
The Sunbury and Shepperton Local History Society, in conjunction with Kempton Park Racecourse, has organised a commemoration event on Sunday 21st October to mark the end of the First World War a century ago. The event which opens at 12.00 noon and takes place during a race meeting, will feature a display on the story of Kempton Park from the SSLHS, uniformed re-enactors, historic transport of the period, a sound installation 'No Sound Dies' from Surrey Arts, and a display of prose, poetry and artwork inspired by the war, from local school children. Normal racecourse admission applies.
'The Story of the Queen Mary Reservoir' by Nick Pollard is the subject of the next meeting of the Sunbury and Shepperton Local History Society. The meeting takes place on Tuesday 16th October at Halliford School in Russell Road, Shepperton, starting at 8pm. All welcome, admission £2 for non-members.