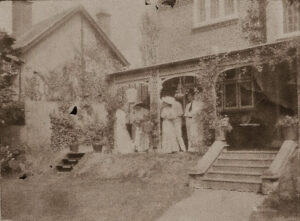 A Laleham Testament with an intriguing connection.
At the recent Laleham Residents Association AGM, I asked 'Where is Thames Cottage?' Nobody was sure, although there was recognition when a few local family surnames associated with the property were mentioned.
For Laleham Village Heritage Collection I want to gather something more personal, more emotionally tangible, which will complement the maps, the photos and the documents (not forgetting the gas mask, the brick and the Codd bottles) that form the basis of Laleham's local history collection. For this I'm seeking and pestering for memories of Laleham from past or present residents to add to the few we already have, to create the 'Laleham Testament', and a few weeks before the AGM a friend had sent me extracts from the memoirs of Muriel (Danny) Daniels; Muriel had lived at Thames Cottage from the mid 1930s to the mid 1940s.
Muriel's story has been uploaded onto Laleham Residents Association website, just as it was received from her half-brother and it's supplemented with his foreword and footnote. Not everything in the memoirs is wonderful, although it's a fascinating read, having been written from a perspective that few today will have experienced. Please have a look – www.lalehamonthames.com
However, where was Thames Cottage? An internet search produced a fuzzy photo and a name familiar to a couple of generations of readers and film goers.
Examining the photograph for clues, there was something that looked familiar from my visit to one of the gardens during Open Gardens Day a few weeks ago and after a walk along Thames Side, between Ferry Lane and Condor Road, I thought I'd found the neighbouring house whose sidewall is shown to the left in this photo.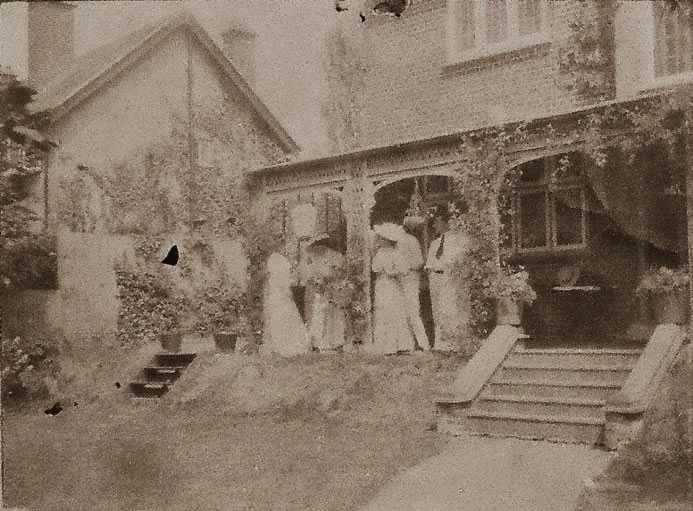 Until this point I'd assumed that Thames Cottage had long since disappeared, but chats with Carol and with Rob, the owners of adjoining properties showed that Thames Cottage still exists, hiding in plain sight; it no longer has its veranda or its name, and the title 'cottage' had led me to expect a detached property, but there it was, No 219 Thames Side.
The photo comes from the family of Rafael Sabatini (1875-1950), author of romantic novels such as 'Scaramouche' (1921) and adventure stories including 'The Sea Hawk' (1915) and the 'Captain Blood' series; the stuff of swashbuckling adventures for schoolboys (of all ages). Another generation, including perhaps some reading this, would become familiar with Sabatini's works though movies; 'Captain Blood' (1935) starring Errol Flynn or 'The Black Swan' (1942), starring Tyrone Power and Maureen O'Hara.
Sabatini lived at Thames Cottage from 1905 to at least 1912.
Unfortunately there seems to be little public information dating his time in 'Laleham-on-Thames, England', other than a 1909 American copyright catalogue entry.
However I'm in contact with the author of a number of books on Sabatini who, in turn, has contact with his descendants and I'm hoping this will bring more information about his time here to add to our village collection.
If you have any personal or family memoirs you can contribute to the 'Laleham Testament' collection, please contact me;
Dominic O'Malley
Laleham Heritage Centre curator.
dom.omalley@hotmail.co.uk