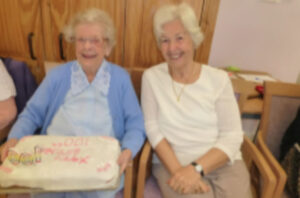 Huge congratulations to Ena Perrot on reaching a round 100 years old.
Ena lives in Shepperton and attends the Greeno centre every week. I met her on the day after her 100th birthday. She was at the curling club where her 'blue' side was taking on the 'reds' (I think the Reds won on that day). Her very youthful looking eldest daughter, Roberta was with her, having come over from Australia for the celebrations.
Ena proudly showed me her card from the Queen. When I asked what the secret of health and longevity were she laughed and said "hard work!". She had always wanted to be a teacher, but didn't get the education to fulfil her ambition so at the age of 15, left school to start 'service' in a house. That entailed hard work and long hours but probably kept her fit.
She married just before her 22nd birthday to a 'handsome young man'. She bore him 4 children but his wandering ways ended in him leaving her for someone else and Ena had to raise the children alone. She was forced to support the family so went to night school to learn to type in order to better herself, and worked by day in a canteen where one of her daily jobs was peeling a sack of spuds with a knife! Roberta meanwhile helped to look after her younger siblings. During this time the adventurous Ena managed to fulfil her dream of travel, taking a coach tour across seven European countries by herself.
She eventually got a job as a telephonist, encountering her second husband as she was connecting his call! He worked for BOAC so she ended up travelling the world with him, exploring places like Singapore, New Zealand and Hawaii.
As well as 4 children, Ena has 12 grand-children and 15 great grandchildren, most of whom were at her birthday celebrations. She stopped her travels in her mid 80's but regularly Skypes her family down under. She now lives with her youngest daughter in Shepperton and is thankful for all the support she gets from her. "She looks after me so well, I don't have any worries".
The hard physical work Ena did during her life probably gave her the basis of fitness. But she also exercises her mind. She has a great love of puzzles of all descriptions. She is bright and talkative and is already looking forward to her next card from the Queen which she will get when she is 105. I have no doubt she will make it. Good luck Ena and congratulations! We hope you enjoyed the cream tea which your Blue curling team
organised at the Runneymede Hotel as a surprise.