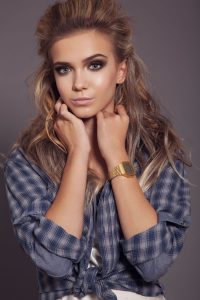 17 year old Lucy Watkins, known professionally as singer-songwriter Aylis Mae is celebrating after releasing her debut music video on Vevo for her song 'Broken Heart'. The talented teen has wowed crowds across the UK conveying maturity beyond her years with a sultry voice and catchy self penned tracks. Lucy's writing which has been championed by many in the music industry touches on raw and powerful emotions taking listeners on an emotional journey.
Lucy started her journey to stardom at the age of 2 after joining the Sally Pond school of dance studying grades in a number of styles including ballet, tap, jazz and modern. By the age of 7, Lucy had such a strong interest in music that she sang at home most days but once she starting at Thamesmead School at the age of 11 that she started singing lessons. Outside of school Lucy joined the Joseph Choir performing in a touring show at Woking, Windsor, Wimbledon and Richmond Theatre's alongside stars of the BBC talent show 'Any Dream Will Do'.
Lucy was also lucky enough to perform as an ensemble member of 'Take That – the musical' at the Savoy Theatre in London and performed at Disneyland Paris as part of the successful Mardi Gras dance event. One of Lucy's proudest moments was getting to the grand final of Open Mic UK at Birmingham NEC where she beat off hundreds of other singers to reach the glitzy final which was judged by some big names in the industry.
In 2014, Lucy joined The Famous Company to help her create original music and launch as a solo artist. After working with a team of professional writers, producers, photographers and managers, Lucy released her debut single 'Hidden Inside' last summer. Since then she has performed at a number of venues and events across the UK. After receiving feedback from industry heavyweight Hugh Goldsmith, Lucy penned her latest single 'Broken Heart' accompanied by a music video which was released on Vevo just last week and has clocked up over 1000 views already.
Ben Rees from The Famous Company said, "Lucy's raw talent and potential is absolutely amazing, she is one of our youngest artists at the moment, but her ability to write catchy songs, and hold a huge crowd at some of the UK's biggest events is impressive. We are excited to see how Lucy continues to develop her skills over the next few months and hope that her local community get behind her journey into the music industry".
Lucy's music video 'Broken Heart' is available to watch on Vevo now. For more information about Lucy visit www.facebook.com/aylismae