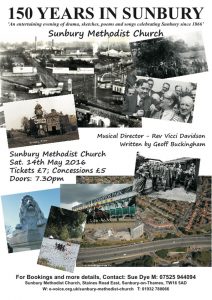 This month sees the first ever dramatisation of the history of Sunbury-on-Thames. Some of the characters and major events in Sunbury since 1866 will be brought to life in an entertaining evening of sketches, dramatisation, poems and song, by Sunbury Methodist Church, to celebrate their 150th year in our town. The script has been compiled by award winning local scriptwriter Geoff Buckingham, and the music will be under the direction of Rev Vicci Davidson, this Church's minister and a former theatre musical director.
Says Geoff "We are delighted to bring some of our town's rich history to the public in a way that we hope will be informative but also very enjoyable. We cover subjects such as opening of the railway, the beginnings of the Sunbury Regatta, the forming of the Grand Order Of Water Rats, and the many top showbiz stars and inventors who lived in the town. Plus we also depict how the town suffered during the two World Wars, how Kempton Park became a Prisoner of War camp, the loss of the two sons of Captain Lendy, the town's narrow escape from a V2 Rocket and even the local dispute that made national headlines as 'The Battle Of Sunbury'!
We have a talented group of actors and singers, and there will be songs from the musical halls and wartime eras, plus chart-topping hits. And the audience are welcome to join in on many of the songs if they wish!
The show starts at 7.30pm on Saturday 14th May at Sunbury Methodist Church, Staines Rd East, Sunbury-on-Thames. Tickets are just £7 or £5 concessions.
All proceeds are to Sunbury Methodist Church hall restoration fund. This hall has for many years hosted a number of important local activities and community groups. "We now badly need to raise a large sum of money to replace the roof, in order continue serving the people of Sunbury in this way. So all support will be greatly appreciated!"
Geoff Buckingham