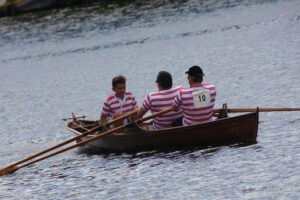 We will be hosting our fifth annual Marathon event on the 21st May at the Phoenix in Sunbury. This is an inter club event and will include competitors from all the skiff clubs along the Thames. A doubles event, you will be able to see racers of all ages from 18 up to the veterans with minimum combined age of 123. The course is six kilometre course starting from the Phoenix, racers row downstream towards Hampton and then turning at Platts Eyot to come back and finish at the Phoenix.

The racing starts at 10 am with refreshments including snacks and cakes available all morning in the Garden prior to the main bar opening in the pub. There will a raffle with some fantastic prizes kindly donated by the Phoenix management. All welcome to come along and support your local club, enjoy a Saturday morning by the river and find out more about skiffing.
Sunbury Skiff and Punting club are a friendly club formed in 2010 by our founding members who believed that Sunbury should have a skiff and punting club to participate in the Sunbury Amateur Regatta, inaugurated in 1877. The club now regularly participates in all events organised by the SRA. The objectives of the club are to teach, coach and promote skiffing and punting in traditional Thames skiffs and punts. The club continues to improve and expand its facilities and membership, welcoming all ages and abilities of rower and potential rowers. New members always welcome.
Email Us: skiffing@btinternet.com
Call Us: 07973 814 552
To see more about the club and members take a look at our website www.sunburyskiff.club or facebook page : facebook.com/sunburyskiffandpuntingclub