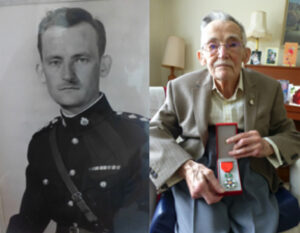 The Légion d'honneur, is France's highest decoration. It was established by Napoleon in 1802 to recognise individual merit. Among its recipients are those who have played a part in the liberation of France and so it was that Sunbury's John Cairns was recently invited to a special ceremony at the French Embassy to receive such an award for the part he played in WW2.
John was only 14 when the second world war started, but as he heard news of France being over run, he vowed that he would do his bit and join the cause. His father had served in one of the Highland regiments, and survived several years on the front line during the Great War. John could not enlist until he was 17. Even then he still had to wait for active service. Finally, as the war progressed, Churchill lowered the age at which a soldier could be posted overseas to 18 and a half (shocking to think how young that is) and off John Cairns went to France. He landed in Arromanches on 18th July 1944.
He quickly saw action, encountering a German patrol one night. His commanding officer ("the bravest man I ever met") was killed and John was shot through both legs. He spent 10 weeks in hospital, where his legs became infected. Once "well" enough he was sent to spend the rest of the war in a Stalag, a prisoner of war camp. The camp was horrendous beyond our comprehension. John was liberated at the end of the war and was home for VE Day. (His poor parents had no idea he was still alive until he walked in through the door.) He stood with his parents and brothers in front of Buckingham Palace and savoured freedom.
He was commissioned at the age of 20 and spent two further years in the army, but decided to have a change and retrained as a mechanical engineer.
His leisure time was spent walking. It was during one of his walking holidays to the Alps that John was to meet his future wife Brenda. That was 62 years ago.
Not only did he meet his wife, but his "lifelong walking partner", and together they have enjoyed many happy times exploring the British countryside. They have lived in Sunbury for 54 years.
John's family are immensely proud of his achievements and his medals will be passed down the generations. He has also been writing his memoirs entitled " A Soldier's Life" which will be sent to the Imperial War Museum.
It is fitting that this month, the month of remembrance, we can congratulate one of our own. It is when you meet men who have served that the magnitude of what they went through starts to mean something. We have a lot to be thankful for.