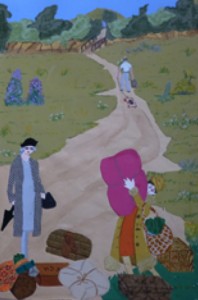 At the turn of the last century, Sunbury was a weekend and holiday destination. The river was bordered by many little cottages and the beauty of the river and peace of the village offered sanctuary from the bustle of London. Many of those weekend retreats have been sold and redeveloped.
Two of these original buildings on Wheatley's Ait have just been sold at auction, and redevelopment is now their fate too. But we have an interesting insight into life in the 1920's at 'Cubiculo', one of those recently sold. Well…what a history!
Florence Glossop-Harris was a renowned Shakespearean actress in the 1920's. At weekend she rented a summer house in Sunbury and escaped the hurly burly to enjoy the simple life that island living could offer. She would take the train to Sunbury with her luvvy entourage, go by taxi to the old Conservancy Cottage on Fordbridge Road, then on foot down a pathway to the island.
The group's visits to 'Cubiculo' have been documented in a scrap book written and illustrated by one of the group in 1928. Known as 'Perk', he was in fact Captain Perkins, and the impresario for the group, having served previously in the Great War. The scrapbook of poems, prose and drawings offers a rare and intimate glimpse into the past. Perk clearly had a great sense of humour.
The illustrations of the group and their goings on are done in a mix of decoupage (cut out wallpaper) and paint. The caricatures of the visitors are full of expression and cheek, and the scenarios they are in, showing episodes from their visit are great pieces of observation and sometimes sauciness! A flogging for flouting the 'no smoking' rule. The group at table after dinner, each one with the word 'snore' next to them…many empty bottles in evidence…
The group used the services of Sunbury's Dennis Brock's grandparents, who used to prepare the cottage and deliver groceries from Darts stores by punt up the creek. Dennis was 10 at the time and has a good recollection of the group and the impression they left on the neighbourhood – not always positive! Opposite 'Cubiculo' were three sleeping huts (long gone). The visiting boys would sleep there and Dennis was instructed that if any of them offered him a sixpence he should refuse it and tell his grandad!
'Cubiculo' itself has fallen into disrepair and although it was fascinating visiting the place where such a lot of jollity had taken place so many decades ago, but it was also rather sad. This final link with the past will be pulled down and a nice modern house with all mod cons will take its place. Much better for our times of course, but lacking the romantic simplicity of the old life perhaps.