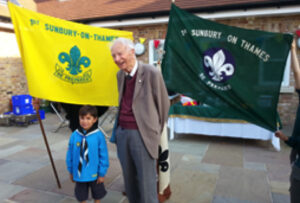 I was a shy young thing. Ironically, joining the Brownies, would have been just the thing for me, as I discovered when I went to the grand opening of the new HQ of the 1st Sunbury Scouts & Guides. The event was teaming with old and young, those who had been a scout or guide back as far as 40 years ago. I spoke to one (mature) past member who told me that trips with the scouts had opened his eyes to travel and had moulded his life and ambitions. There was a great buzz about the opening of the new HQ, which replaces a cold and damp hut.
The venue is fantastic, and the grounds offer a safe outdoor environment for activities too. Judy Parsons, guide leader, gave the address. She particularly thanks Cliff Hamilton who was the driver of the project "There is no doubt that without him we would still be in our old headquarters, struggling to fund raise and hoping for a warmer future in a better building…His determination and drive-never seeing a problem to defeat the project, but just a hurdle to overcome–have seen the build through demolition to opening day."
There was an exhibition of photos from many years back to the present day. Scouts pictured in fancy dress competitions who are now lawyers, pilots and head masters! The tandem bike which has been on many a trip. Camping trips and other adventures. This movement, and local group, has given values, self-belief and confidence to so many youngsters. Long may it continue in the warmth and comfort the new HQ has given it.
The day was a great success. Not only did the sun shine, the crowd was delightful, but I also won a raffle prize! When former guide, and now a maths teacher Gus sold me a ticket, I joked with her that I would give her a shout out in the magazine. Well Gus, thanks for selling me the winning ticket. It just shows you can always trust a girl guide!