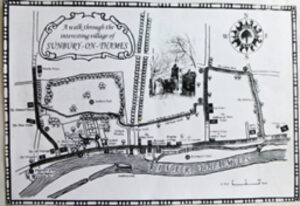 Clearing out is a great way of discovering long lost treasures. So it was for a local Sunbury resident who was having a clear out and came across his son's summer school project from when he was 10.
St Ignatius had set a piece of work to be completed during the holidays in the mid 1990's. Children were provided with a map showing key buildings and landmarks in the village. They had to complete the walk, taking in each point on the map and research it, compiling a booklet of information about the village. What a great way of opening a child's eyes to the history of our beautiful village.
An introduction of facts and history was very grown up (either this child was very mature, or there may have been a certain amount of help?). "it is safe to assume that Sunbury as a village was established in the late Saxon period". But I learned something from this 10 year old. I may be showing my ignorance, but I did not know that Sunbury on Thames had a coat of arms (see left) granted in 1948.
The walk started at Flower Pot Green. We learn that the Flower Pot Hotel had recently seen the demolition of part of the building, which many of you will remember.
The walk then takes us down Thames Street and past the Walled Garden which we are told was the veg garden for the Manor House. We also learn that Sunbury Park was part of the Kempton Common Field, used for common farming, divided into strips for tenant farmers until the Enclose Act of 1800.
The Magpie, we are told, was home to the Grand Order of Water Rats, and no 10 Thames Street is pointed out as the site of the first police station in Sunbury.
Further down the road, Pomfret Cottage is of note. It was once a school for girls, but at the time of the project was a nursery school.
Many in Sunbury still refer to the site of Indian Zest as The Castle. Indeed here was reference to "The Castle Restaurant, now Café Rouge" and we are told about the soldiers room under the eaves which the inn keeper had to keep for the military. (We have heard rumours of ghosts…)
French Street was so named after the Huguenot refugees escaping persecution in France in 1685. Finally we learn that the Three Fishes was the place where the local fire engine was kept.
Well I certainly learned a lot from this 10 year old. What a great project. Reading through the pages, what struck me was how little Sunbury has actually changed though, since it was written. That warms my heart. We residents are keepers of this rich history for the next generation. Let's enjoy it and look after it.