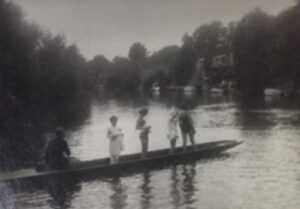 Every year crowds gather at Rivermead Island in Sunbury for the annual regatta. This year the event on Saturday August 15th will be the 138th year. We wander around the stalls, watch the arena events, have a bite to eat and cheer on the racers.
By the end of the day, most of us assume that is the end. But every Sunday sees a smaller, but equally important event: The Edith Topsfield Junior Regatta. That event has been going over 92 years and is open to children aged 7-15. In the early days the course was down the backwater of Sunbury Court Island. It was started by Riverside resident Edith Topsfield who decided to do something for all the children visiting grandparents by the river during the summer holidays. At the time it was put on just for local children and grandchildren of the backwater. It was different. Children used their own dinghies. As well as rowing, there were swimming races and fancy dress competitions.
I am guessing Health and Safety has put paid to a lot of those activities. Local Christine Canham (was Box) posted a photo of herself on Facebook at the Children's Regatta in 1952 (see above). "That's me ! Far left in the fancy dress competition in a nighty, curlers and holding a baby doll in each arm , I entered as Sleepless Nights ! Not a life jacket or "elf and safety " jobs worth in sight" She won first prize in the fancy dress competition and still has the book she won for 1st prize in the fancy dress competition.
The Children's regatta is a chance to introduce children from the area to the skill of watermanship. Many have never set foot in a boat before trying out coaching sessions. They soon get the hang of it. It is a chance to learn respect for the river, get fit and learn some independence. With the river on our doorstep it seems a shame not to let children enjoy it from an early age. This also develops a line of succession and opportunity to join a local Skiff or Rowing Club.
The photo above shows the site of the original children's regatta. This is the home of Janet Graham. Husband Peter, Sunbury born and bred, was chair of the punting committee. In 1958 the couple discovered that their garden was used as the site for the children's regatta so continued the tradition. Son John is now Captain of the Sunbury Skiff and Punting Club.
It's temporary home is…Janet's garden! He tells me that as a child he and his two brothers competed every year, regularly scooping all the prizes, until dad Peter imposed a heavy handicap. John has rowed or officiated in every regatta apart from two since he was 5 after begging to be allowed to start early as an exception.