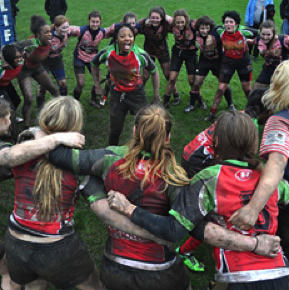 Guinness, the black stuff, may be served in the bar, but we are talking Guinness as in breaking records in August.
Hazelwood will be the place to be on August 15th if you are a rugby fan, or even if you just want to give your support to a good cause.
On the 15th – 16th of August, a month before the start of the 2015 Rugby World Cup, teams representing two charities will come head to head in an attempt to break the world record for the longest ever game of Rugby Union. The current record is 25 hr 59 minutes 47 seconds.
A team representing Scotty's Little Soldiers, will go head to head with a side from the School of Hard Knocks aiming to play a record breaking 28 hour of full-contact rugby. Hazelwood, home of London Irish amateur and professional clubs, is hosting this attempt at its Sunbury ground.
Scotty's Little Soldiers is a charity dedicated to supporting bereaved British Forces children. To provide relief from the effects of bereavement to young people up to and including the age of 18 years who have suffered the loss of a parent killed whilst serving with the armed forces of the crown. School of Hard Knocks is a charity that uses rugby as a platform to help people realise their potential in life.
Through a combination of rugby training and class based sessions, the charity helps adults who are long-term unemployed find the confidence, skills and resolve to get back into the workplace.
If you are looking forward to the Rugby World Cup itself, then you have a treat in store. London Irish have confirmed details of the Webb Ellis Trophy tour which will arrive at Hazelwood on Saturday August 29th (bank holiday weekend). The Webb Ellis cup will be on site between 13.00-15.00 and will allow members and local residents a chance to get involved in the biggest sporting event of the year.
The day will include rugby activities with musical and cultural performances that represents the nations that will be using Hazelwood as a Team Base during Rugby World Cup 2015: Wales and Fiji.
Food and drink will also be available on the day. More events will be announced nearer the time to do make sure you check the website: www.hazelwood-centre.co.uk.
So make Hazelwood a destination in August. Come and support the record attempt and make a date with the Webb Ellis trophy. You surely won't get a chance to be this close to it again!
For more information on the record attempt, or to make a donation, see details below:
Website: www.worldrecordrugbymatch.co.uk
Facebook: www.facebook.com/www.worldrecordrugbymatch.co.uk
SOHK Fundraising page: www.fundraising.schoolofhardknocks.org.uk/event/GWR-SOHK
Scotty's Little Soldiers Fundraising page: www.everydayhero.co.uk/event/gwr-scottyslittlesoldiers