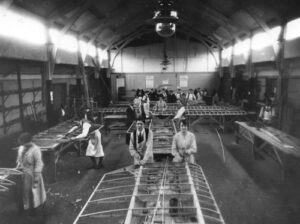 Following on from the article about Rossall House in Thames Street, Sunbury, in April's 'Sunbury Matters', I thought readers might be interested to learn of an earlier company which operated from the premises.
Sherard Cowper-Coles, an inventor who had done pioneering research into electro-plating of metals, came to live in Sunbury in 1912. He originally lived in French Street, but soon afterwards acquired Rossall House as offices, and established workshops in adjoining outbuildings.
At the outbreak of the First World War in 1914, he became involved in the manufacture of parts for fighter aircraft, principally the wings. These consisted of light wooden spars and ribs, screwed and glued together, over which linen would be stitched, then tightened and weatherproofed with cellulose dope. Photographs of the time show workshops filled with machine tools to manufacture the wooden parts, whilst other areas were used to assemble the wings, and apply the fabric covering.
The completed wings would be taken away by lorry elsewhere, to be assembled onto complete aircraft. Examples of aircraft manufactured included the Sopwith 'Pup', the Royal Aircraft Factory SE5A, and the Avro 504. Such was the demand that extra space was needed, and space was secured at the 'Lincrusta' works in Hanworth Road, near Sunbury Cross (now the site of a Travelodge hotel).
In an intriguing development, Cowper-Coles went on to design an all-metal fighter, which was a radical innovation for the time. Surviving pictures show a streamlined body, with an enclosed cockpit for the pilot. An old Sunbury resident who had worked at the factory claimed that up to two of these aircraft were produced, but no other evidence exists apart from a photo of a metal propeller.
Aircraft production ceased at the end of the war in 1918, but the company went on to produce sound recording equipment, specialised glass, and experiment with various metal treatment processes. Cowper-Coles died at Rossall House in 1936 and is buried in Sunbury cemetery, a brilliant inventor whose achievements should be better known.
For more about Rossall House and other vanished local buildings see 'Lost Houses of Sunbury and Shepperton', published by SSLHS.
'The Gentleman's Magazine 1751-1856' a valuable source for local history, is the subject of the next meeting of the Sunbury and Shepperton Local History Society, at 8pm on Tues. 19th May at Halliford School, Russell Road, Shepperton. All welcome, admission £2 for non-members.