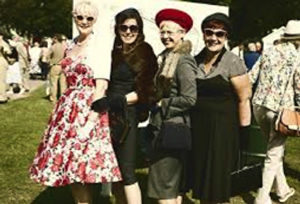 Last year I went to the Goodwood Revival. It was like stepping back in time. It was not just the classic cars that gave it the nostalgic spirit, it was the spectators. Most had dressed up in vintage clothes from the 1950's echoing the golden era of motoring which was being celebrated.
I knew then that I should never have let my mother throw out her old dresses, suits and coats from the period! Thankfully one of my friends had had more foresight so I was duly equipped with a vintage dress and had it adjusted to fit me by a seamstress.
Vintage is so in vogue these days. You don't need to go to Portobello Road to get sorted. Sunbury Antiques Market at Kempton Park hosts many traders (second and fourth Tuesday of every month). One of my neighbours is in the vintage garment business. I marvel at the delicate fabrics of some of the pieces, very lady like designs ….and also the unusually small sizes! That is the one snag with vintage. As a nation, we have changed size and shape since then so usually you will often need to have some adjustments made.
I love the feeling that vintage clothing has a past life, it makes it mysterious. When you buy a vintage dress, you are getting something that has already travelled thousands of miles and had several loving owners in their past. It is fascinating to wonder whose life each piece was a part of before it became a part of yours.
Vintage is also unique. Have you ever walked into a party and realized you were wearing the same dress as another girl? With vintage you are sure you'd never see someone else wearing the same dress. You can see why pop stars and fashionistas adopt the look.
Lots of the fashion world's top designers are influenced by past decades. Some borrow their styles straight from vintage pieces. It is common for a designer to find a vintage dress, make a pattern from it, and sell it as their own. Industry insiders have always been hip to vintage – and for good reason.
We live in a society of mass production and 'fast food fashion' where high street chains produce cheap fashion from cheap material. We don't tend to 'invest' in quality any longer. Back in time, clothing was made with superior expertise. If you examine most vintage pieces you'll notice greater attention to detail in textiles, patterns, stitching, etc. Vintage fashions were designed to last and were sewn by hand. Why pay so much for cheap quality? Buy vintage. It won't cost a fortune, but you can be sure you will look a million dollars!