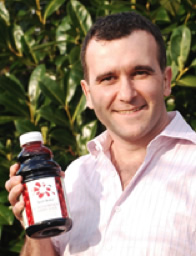 It's been eight years since Sunbury resident John Carey's painful episodes of gout led him to halt a successful career as a financing manager and start to build a cherry juice business.
CherryActive now uses 400 million cherries per annum and boasts professional football teams, rugby squads and Olympic squads amongst his customers!
In his early thirties, John, had a background in Accounting and Financial Management. He was also a keen sportsman – a black belt at judo, marathon runner and mountain biker.
One morning, he woke up with excruciating pain in his toe and his life changed. A hobble to the doctors revealed that he had gout!
Gout is rare and caused by a build up of uric acid in the bloodstream, Uric acid is a by-product of a protein called purine, which is found in meat and vegetables and is especially high in seafood, and beer.
Sufferers are mostly men and predominantly those with a purine-rich diet.
John was neither overweight nor had a rich diet, but damaged kidneys at birth meant that uric acid built up and caused gout flare ups.
John's first gout attack lasted over ten days and was followed by regular attacks. Restricting his diet to low-purine foods didn't seem to help, and his doctor prescribed life- long medication, which John was not keen to accept.
A few years later, John suffered another attack on a business trip to the US, and one of his American colleagues told him of a friend in Michigan who swore by the cherries from a local orchard that had helped him get rid of his gout problems.
John took a trip to the orchard and starting taking the juice from recently pressed cherries. The next day his gout pain had totally subsided.
Back in the UK, he tried to buy cherry juice, but there were no stockists. So he arranged to import some of the juice and soon had a growing band of fans, keen to put in a regular order.
John decided to quit his job, and launched "CherryActive" on January 6th 2006.
The next few years saw sales rise quickly via his website and through health stores.
In 2008, he approached the London Irish Rugby team, John had noticed that his cherry juice helped him recover after long runs and judo training. The rugby players found similar benefits, and the word soon spread to other teams.
In 2009, London South Bank University did a controlled study to investigate the claims. The results were impressive, and today all the four Home Nation rugby squads take CherryActive products, together with Premiership Rugby and Football teams, and twelve GB Olympic teams.
CherryActive is now ready for further expansion in order to accommodate the additional product lines in development, with distribution in Ireland, South Africa, China and Australia.
In between John has made his iinternational TV debut on Total Wipeout where he was of course dubbed Cherry Man! For the John Carey and his team, life is certainly now a bowl of cherries.