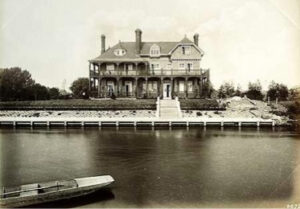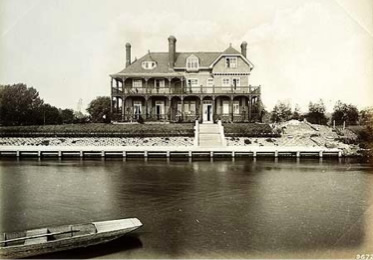 Gilbert and Sullivan are of course best known for the series of comic light operas which bear their names, but the man whose knowledge of the music business brought them together and made the partnership work (not always an easy task) was Richard D'Oyly Carte. There is a connection with our area in the shape of D'Oyly Carte Island, which lies just downstream of Shepperton Lock.
Carte himself came from a musical family, and was involved in operatic and concert management. He first brought Gilbert and Sullivan together in 1875 for 'Trial by Jury', which was an immediate success. The partnership went on to produce 'H.M.S. Pinafore' (1878), 'Pirates of Penzanze' (1879), and perhaps the most famous, 'The Mikado' in 1885. There followed 'Ruddigore' (1887), 'The Yeoman of the Guard' (1888) and 'The Gondoliers' (1889). The success of these productions was such that Carte decided to build a theatre especially to house them: the Savoy Theatre, the first public building lit entirely by electricity, was the result. The famous Savoy Hotel was later built by Carte on an adjacent site off the Strand. Carte also decided that the hotel should have a country annexe, and with this in mind purchased sometime about 1888, an island in the Thames which had previously been known as 'Folly Ait', between Shepperton and Weybridge.
The building he erected never became the hotel annexe, due to the refusal of the local magistrates to grant a drink license, but he retained it as a private dwelling named Eyot House. The island itself then gained its present name. It seems to have been used for weekend house parties, to which members of the D'Oyly Carte Opera Company were invited. Sullivan must have taken to the area, as he was to lease at a house by the river at nearby Walton-on-Thames. There seems little hard evidence however, for the story that the well known song 'Tit Willow' from 'The Mikado' was inspired by the willow trees on and near the island.
Carte died in 1901 and the house was sold, ironically in later years it did indeed become a hotel, but is once again a private residence. It used to be accessed via a small chain ferry from the Weybridge side, but this was replaced by an arched bridge in 1964.
In recent years the house has featured in various film and TV productions, including 'Alas Smith and Jones' and 'Primeval'.
Spelthorne Choral Society will be performing music from Gilbert and Sullivan's first collaboration 'Trial by Jury' as part of their Victorian Evening, which also features 'The Banner of St. George' by Edward Elgar. The concert takes place at St. Peter's Church in Staines on Saturday 12th July at 7.30pm. For further details see their website www.spelthornechoralsociety.com