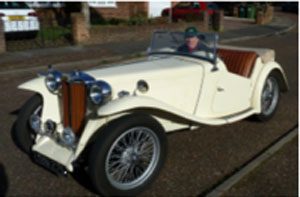 Shepperton has lost a good community member. Brian Holt who died in late September was part of the very fabric of Shepperton.
Of course he was the village baker, a position he took over from his father.
But he was also known for his unstinting service. Brian had served on the Shepperton Village Fair committee, been a long term Rotarian, read for the blind and was a driver for Care in Shepperton. He loved his classic cars, restoring them himself and showing them at the Shepperton Fair as well as taking part in historic rallies. He was a member of Desborough Sailing Club and he skippered and crewed the Impossible Dream.
Impossible Dream is a boat adapted for the disabled. Volunteer skippers operate all year round, conditions permitting and provide short boat trips to groups from special need schools, care homes and clubs. Brian heard about Impossible Dream from his good friend Derek Beake who is also a volunteer skipper. Brian had the boating experience himself as well as a great desire to do some good for others so joined up. He played a full and popular part in the boat until his health forced him to slow down.
From July 2007 Brian Holt drove for Care in Shepperton.
Marilyn Bulford refers to him as a 'legend'. In her words; " He was one of those volunteer drivers who always did his utmost to help elderly or sick people in Shepperton.  He was a duty driver one day a month, and often helped up to four clients to medical appointments on his duty day.  Also if they needed to get to the post office or a particular shop, he would try to help if he had the time between appointments.  Several of our clients had worked in Holts the Bakers, and they were thrilled to get 'the boss' taking them to the doctors' or hospital appointments, and he was so pleased to help them."
The eulogy at Brian's funeral, read by Brian's grand daughter, Maddy, spoke lovingly of the memories the family has of this special man. She spoke of the grandchildren's earliest memories which included the smell of freshly baked bread, but then also of course memories of their granddad who took them on boat trips, spoiled them with biscuits from the cookie jar and who presented them with a big pink pig made of meringue from the bakery.
The eulogy talks of a man who could not sit still, always busy with projects and helping others. Beach holidays were not the norm for the family. It was all about adventure. "Simon, Becky, left or right?" Brian would ask his children on their road trips round Europe. Inevitably the getting lost was the fun, even if it meant having the wrong currency! Brian had a knack of talking to anyone and accepted an invitation to stay with a complete stranger I Norway who had met on a ferry.
That sums Brian up. A people person. Maddy ends her eulogy with the words "above all you were the best dad, grand dad, great grand dad abd brother anyone could have ever wished for.
Rest in peace Brian. You have left your mark on the world.