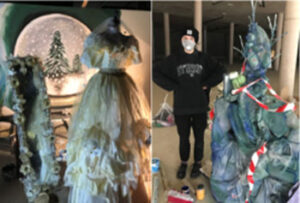 This festive season you can see an alternative take on a Christmas window display. Local Shepperton resident and TV/film set designer Rebecca Morton has been working with Two Rivers Shopping Centre, Spelthorne Borough Council Leisure Services and a selection of Spelthorne primary and Secondary Schools to create a magical and meaningful Christmas display on Staines High Street. The installation, themed on Charles Dickens 
famous story 'A Christmas Carol' will be created from materials we would usually throw away, to deliver a powerful message about recycling and climate change.
The art installation will be on display between Sunday 1st December and Monday 6th January in a vacant shopping Unit under The Premier Inn Hotel on Staines high street.
Rebecca has worked on many art projects with local schools, creating murals and running art and craft workshops for children (see website https://www.sensorymurals.co.uk/). The Christmas project has involved children from across the borough who have been creating decorations for the display as well as some of the main figures for the windows.
The Christmas Carol story will feature four key messages:
Marley's ghost carries the message of plastic waste, featuring an underwater scene of a figure weighed down by chains, covered in plastics and netting which we are seeing polluting our seas.
The ghost of Christmas past will carry the message of textile waste. A wedding dress from one of the Shepperton charity shops has been used to create a Miss Haversham figure and donated, unwanted shoes create 
sculptures.
The ghost of Christmas present is a large Christmas tree as a giant who shelters the children of Ignorance and Want by his side. This illustrates food waste. It is arguably the brightest and most Christmassy window, but carries the message of food poverty and waste. Primary school children have created decorations for the tree from discarded pasta, sweets and food packaging.
The ghost of Christmas future is the darkest of all. A giant reindeer skull lies amongst a landfill scene made of wrapping paper, much of which we learn cannot be recycled. Amongst the discarded paper however, flowers and plants will be planted to give a message of hope for the future.
Many of the ideas have come from school children themselves. It is an innovative and impactful display. Do go and see it for yourselves. December 1st-January 5th. Premier Inn, Staines High St.