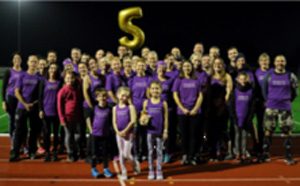 One dedicated individual has been behind a running surge in the area. Having moved to Shepperton in 
November 2014, Steve Barrington was keen to join a local running group. Finding that there wasn't one, he set up the Shepperton Running Group. He got partner Andrea to help him set up a Facebook group page and they advertised the new group in local shops. Well, they have (literally) come a long way in five years. 
The group now has over 70 regular runners with ages ranging from only 4 years old to a magnificent 65 (please note that under 16s must be accompanied by a parent). Many friendship groups have been forged over the years and whole families have got involved in running. Since joining Shepperton Running Group 21 runners have completed their first marathons, which is an incredible achievement.
The team has also been very much behind the Couch to 5K movement, having organised six groups in Shepperton, at Bedfont Lakes and the Hazelwood Centre for beginners. This was initially aimed at the over 50s through Surrey County Council, but the initiative has continued and expanded now to cater for all ages.
Three of the groups members started the Hazelwood parkrun in March 2018 and there is a strong presence of purple T shirts at the runs every week. Many runners also volunteer at the runs, an essential way of keeping these free events going. It was the 15th anniversary of parkrun last month, which is said to be the world's biggest physical activity movement at the moment.
The beauty of both parkrun (local groups at Bedfont Lakes and Hazelwood. More info at www.parkrun.org.uk) and also the Shepperton Running Group is that it is FREE to join and to take part. The group meets under the Big Tree on Shepperton High Street every Monday (3-5 miles) and Thursday night (3-8 miles) at 7.30pm all year round. Another attraction of a running group is that you are joining a like minded bunch of individuals to motivate each other and enjoy a communal effort. It is worth noting too that there are many women who get involved in Shepperton Running Group so that they don't have to run alone in the dark, especially in the winter months. 
Runners find the sport hugely motivating and Shepperton Running Group are keen to reward and recognise successes.
At the end of November they are holding a glitzy Award's Dinner at the Hazelwood centre. 
The growth of this group has been recognised as significant to our community. Steve Barrington himself won the Volunteer of the Year award 2016 at the Spelthorne Sports Council Awards. In 2020 he will complete his 30th marathon. What drive!
If you would like more information about running with the group please email stevejbarrington@hotmail.com or visit the Shepperton Running Group facebook page