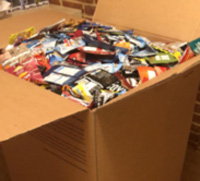 I remember seeing a huge poster advertising litter awareness when I was young, with hundreds of speech bubbles stating "My little sweet wrapper won't make any difference". The point is, if everyone thought that way, then we would all be under heaps of litter.
The same mentality goes for the differences we can all make to the future of our planet. If we all do our little bit then we really CAN make a difference. But what are those changes?
So, let's talk recycling. We have got used to being able to recycle all sorts of  things but there is a lot of confusion as to what can and cant be recycled.  Reports state that we will run out of landfill sites within a decade so we all have to do more. Terracycle is a forward thinking company which is finding a way of recycling things that normally can't be recycled such as crisp bags, plastic biscuit / cracker wrappers, cleaning wipe packets, plastic air fresheners, toothpaste tubes,toothbrushes  and dishwasher / laundry pouches and the range is growing all the time. Once recycled they are made into items such as park benches/ childrens playgrounds / watering cans and tables.
We were contacted recently by Fiona Povey who lives in Shepperton and who is passionate about recycling. She  has put in place an initiative within Saxon Primary School to collect these items, get them recycled by Terracycle and raise much needed money for the school at the same time. It is a win/win situation – parents at the school have been able to raise money for their school without the need to reach into their pockets. Saxon are now looking to increase the amount of recycling we do so are looking for help from local residents to increase our collections.  
Quality Fruit in the high street, recently recognised for Corporate Social Responsibility at the Spelthorne Means Business awards, are a dropping off point for crisp bags and now also collect all the other items for Saxon School. Currently the school is sending off 2 – 3 bin bags of crisp bags every fortnight but feel that with public support there is the potential to save far more than this from ending up in landfill sites. As a company worldwide Terracycle have donated more than $44 million to charities through this scheme. Not bad for a load of old rubbish that would normally end up in the bin.   Keep an eye out at Quality Fruit and you will soon get into the habit of bringing in your empties as part of your weekly shopping. Just like taking carrier bags to the supermarkets with you, we don't think twice about it now, it had just become automatic.  Local schools are all looking for initiatives too and if there is a chance to make money from it, all the better for all.
We would love to share your schools initiatives and help spread the word about any good tips on saving energy, saving money, creating less waste. So do get in touch. Drop us a line at : monica@villagematters.co.uk.