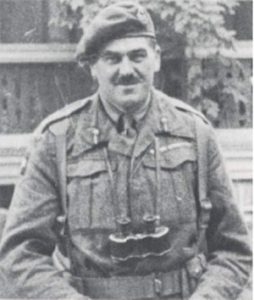 The recent commemoration of the 75th Anniversary of the airborne landings at Arnhem during World War Two reminded me that the man who led the operation on the ground came from Shepperton.
Robert Elliot Urquhart, usually known as Roy, was born on 28th November 1901 at 'Aberfeldy', Green Lane, Shepperton. His father was Dr. Alexander Urquhart, Medical Officer for Health to the old Sunbury Urban District Council.
Roy attended the private Avon House School in nearby Station Approach, a small establishment of only eight pupils run by Miss Alice Blouet. He later went on to St. Paul's School at Hammersmith before going to Sandhurst.
His first commission took him to India. On the long voyage out, he met Pamela Condon, whom he subsequently married in March 1939. They were to have four children, Elspeth, Judy, Adam and Susan. (Elspeth is married to Lord (Menzies) Campbell, the former Liberal Democrat leader).
In the early part of the Second World War he served in the Middle East from El Alamein to Tunis and on into Sicily and Italy. Roy was awarded the Distinguished Service Order (D.S.O.) in September 1943, and a bar to the decoration (i.e. winning it a second time) a month later.
Returning to this country, he was promoted to Major-General and given command of the First Airborne Division, known as the 'Red Devils' because of their distinctive red berets. The story of the Arnhem operation is well known, the airborne troops being dropped too far away from the target bridge, widely scattered, and to cap it all, on top of two elite German Panzer (Armoured) Divisions which were resting in the area. The British troops had been assured that the opposition consisted of 'boys and old men on bicycles'! As the radios did not work properly, Roy set out to make contact with his men, but became trapped in an attic in the town, with German troops stationed outside. Heavily out-gunned, and with the ground forces which were due to relieve them days overdue, the remnants of First Airborne were ordered to withdraw over the Rhine under cover of darkness. Of the 8,000 men who were dropped, barely 1,800 made it back to the Allied Lines, the rest killed, wounded or captured. Urquhart was made a Commander of the Order of the Bath for his leadership in the battle.
After more service post-war, notably in Malaya, he retired from the Army and went into business. Roy Urquhart died on 13th December 1988.
In the feature film made about Arnhem, 'A Bridge Too Far' (1977), the role of Roy Urquhart was played by Sean Connery.
'The Aviation Industry in Surrey in the Great War' by David Hassard is the subject of the next meeting of the Sunbury and Shepperton Local History Society. The meeting takes place on Tuesday 19th November at Halliford School in Russell Road, starting at 8pm. All welcome, admission £2 for non-members.