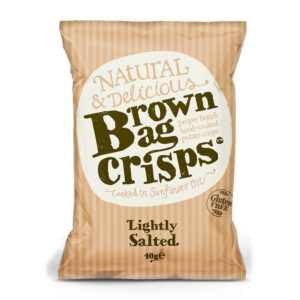 Much loved local company and winners of Spelthorne Business of the Year 2018, Brown Bag Crisps' have continued on the quest to make a change to our world.
They have found a way for their crisps bags to be recycled. Thanks to Terracycle – a company which can recycle things which have previously not been recyclable – Brown Bag crisps bags (and in fact anyone else's) can be taken to one of their many UK-wide recycling points to be recycled. The company also have a freepost address, where you can send the bags to recycle on your behalf. Simply pop them in an envelope and send them to Freepost BROWN BAG CRISPS (written just like this).
Your nearest local recycling collection point is Quality Fruit and Flowers in Shepperton High Street where you will be able to add your crisp bags to the large Brown Bag sack. The Feathers in Laleham is also a collection point so you can drop off crisp packets there. Guilt free crisp eating (almost). Here we come!