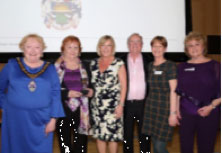 The Runnymede and Spelthorne Volunteer Awards were hosted at the Royal Holloway University on Tuesday 4th June working in partnership with Royal Holloway Community Action and Runnymede Borough Council.
Over 100 individuals received nominations in recognition of their amazing contribution to the community over the past year with several categories having joint winners. It was a wonderful evening, with awards presented by the mayors of Runnymede and Spelthorne, celebrating the hard work and dedication of all the volunteers.
This year the judging panel included The Mayor of Runnymede, Councillor Sohi, The Mayor of Spelthorne, Councillor Mary Madams, Amy Antcliffe, Events Specialist Enterprise Holdings, Dr Brian Perry, Trustee of Voluntary Support North Surrey and Luke Russell Royal Holloway Volunteering Coordinator . They spent many hours considering all the nominations before deciding on the eventual winners which are as follows:
Lifetime Achievement in Volunteering – Mary Jeffrey, The Community of Stanwell
Inspirational Volunteer Award – James Brian, 1st Englefield Scouts
Individual Volunteer Achievement Award – Terri Pilgrem, Queen Mary Sailability
Supporting Individuals in Need – Malcolm and Julie Lee, Heathrow Special Needs Farm
Long Service Award – Anne Prevost, Elmbridge and Runnymede Talking Newspaper
Young Volunteer Award – Lewis Fitch, 3rd Ashford Scouts, Courtney Green, Contact the Elderly Tea Party
Best Volunteer Team – Egham Constellations and The Penrose Club
Digital Support Award – Richard Howles, Elmbridge and
Runnymede Talking Newspaper
Volunteering in Sport Award – Ken Halse, Staines Town
Juniors Football Club
Engagement in the Community Award – Anna-Marie
Goodacre
Finally the Mayor of Spelthorne awarded her own cup to the Purple Angels
Congratulations all.