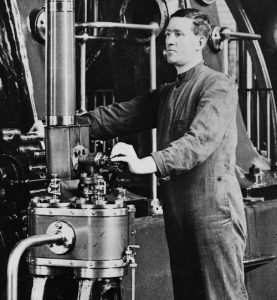 This year is very significant for Kempton Steam Museum, for October will mark ninety years since the giant steam engines and their associated water purification plant, were inaugurated by the Minister of Health. On a windswept day in October 1929, the great and the good of London gathered at Kempton Park Pumping Station to witness its inauguration by the Right Honourable Arthur Greenwood M.P and the chairman of the Metropolitan Water Board, Sir William Prescott.
The group began by inspecting the works and the new pumps before indulging in a grand banquet held in the engine house. No expense was spared, with live music and food supplied by Harrods being plentiful. Both engines made by Worthington Simpson were then started by members of the MWB, R.W James and Sir George Handover. From that moment until 1980, the engines named 'Sir William Prescott' and 'The Lady Bessie Prescott' would pump well over half a trillion gallons of fresh water to the metropolis by the time they were decommissioned in November 1980.
From the instant they commenced operation, they supplied water to a rapidly changing and turbulent London. Across the pond on the very same day they commenced operation, the Wall Street crash started, leading to several years of financial strife felt all over the western world. Perhaps as a result, few if any examples of grand pumping engines in magnificent ceremonial engine houses were ever built again. The age of utilitarian buildings and rapid technological progress including the adoption of electric motor driven pumps was already underway.
By the end of their first decade of operation, the Second World War had begun, bringing with it the London Blitz and undoubtedly the worst fires and destruction since the Great Fire of 1666. Never before had London's water supply network been under such tremendous stress and carnage. On many nights during 1940 & 1941, an additional 100 million gallons of water were pumped to overcome the huge volume being consumed by the firefighters and that lost due to mains fractured by bombing.
The Kempton Park site at its height extended to 254 acres which included two reservoirs, twelve sand filter beds, twenty-four primary filer beds, three beam engines, seven triple-expansion engines and two steam turbines, supplying 1 in 7 Londoners. Often overlooked are the people that made this happen. For example the engines did not drive, stoke, or lubricate themselves.
They required a skilled team working 24 hours a day, every day. In 1939, 180 men worked on the site, a staffing trend which continued for many decades. Despite this huge number of people involved, we know very little about them. Since the Kempton Great Engines Trust began in 1995 a handful of people have shared their fascinating stories with us. Now with our 90th birthday approaching, we are keen to learn more about those who worked at the site. We would be pleased to hear from anybody who has stories, pictures or other information about the site to share with us.