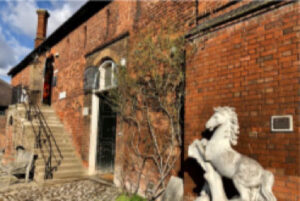 You will have driven past the Royal Mews near Hampton Court Palace many times and maybe have wondered what the building was and what it is now. You may also have seen a parade of uniformed children riding down the road on their way in to Bushy Park and assumed they are part of an elite club. But there is so much to the Horse Rangers that I had not realised before visiting recently, and you have the chance to get involved there.
The building itself goes back to 1536 and was the stables and hay barn for the palace. In Victorian times it was converted to an inn with stabling for coaches, hence the imposing arch ways. It is still owned by the Royal Household.
The Horse Rangers Association (HRA) was founded in 1954 by Raymond Gordon who wanted to give children who could not afford to own a horse, the opportunity to learn to look after and ride horses. It was based at Shepperton Studios but moved to Hampton Court in 1968. Raymond Gordon's vision was to enable boys and girls aged eight upwards, who would not otherwise have the opportunity, to learn to look after and ride horses. Someone told me it is "like scouts/guides but with horses" which seems to be a good description.
It is not a riding school but a place to learn about oneself, a team and the care of a horse. One of the stated objectives is "to help members to learn independence and concern for others by guiding them towards the qualities of integrity, honour and trust". The patron is Princess Michael of Kent who took over after Princess Margaret. HRH the Queen and other members of the Royal Family have also visited the Royal Mews.
From early in the charity's existence, it has offered activities to young people with disabilities. In 1975 the HRA became a member group of Riding for the Disabled Association (RDA). They help disabled children and adults by providing them with riding facilities and teaching them horsemanship. The positivity this can engender in riders is incredible and hugely beneficial to their wellbeing.
The affection and enthusiasm within the organisation is clear. Stable manager and both deputies have between them 60 years of service at the Royal Mews, starting as youngsters themselves, learning horsemanship, volunteering and then finding employment.
You may well have seen the HRA in action, performing one of their musical rides. They were the main arena act at the Shepperton Village Fair in 2017. This is a long standing traditional discipline and is on show again at the annual Chestnut Sunday in Bushy Park, which this year falls on May 12th. Why not pop along to see them in action?
HRA is a charity, relying on grants from the likes of Children in Need but otherwise which is self-supporting. Through its outreach days during the year it plays an important role in supporting children who are for one reason or another, disengaged with education, be it down to bullying, bereavement or coping as a young carer.
Outreach days offer the chance to 'own' a pony for a day, learning how to care for, groom and ride it, as well as learning to be part of a team. As a charity, the group relies heavily on volunteers and needs more of them. If the HRA sounds inspiring to you, how about getting involved? Volunteers do not need experience with horses but need to be confident and interested in people.
As well as the outreach days during the year, volunteers are also needed for the Riding for the Disabled programme which run day sessions (term time only) and one evening session all year round.
So, if you think you have what it takes to support children within this environment, are interested in horsemanship and want to see how children can blossom through the activities of HRA, why not get in touch?
Lauren Thomas
Development and Volunteers Manager
The Horse Rangers Association
rda@horserangers.com
020 89794196
Donate: https://www.committedgiving.uk.net/horserangers/public/landing.aspx www.horserangers.com