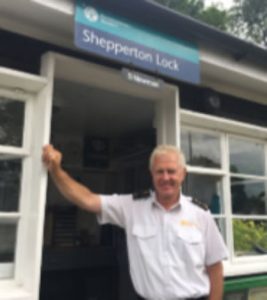 Congratulations to Steve Newman, the EA Lock keeper at Shepperton who has been awarded the British Empire Medal in the Queens Birthday
Honours: The official Gazette stated: "Stephen Newman. Shepperton Lock and Weir Keeper Environment Agency. For services to Inland Waterways. (Shepperton, Surrey)".
Steve has been lock keeper at Shepperton for over 30 years, helping countless river users both experienced and less so. He was completely bowled over at hearing about the award. "It's fantastic" he said "When I first heard it, I thought it was fake news!".
He went on to say that the award was such a team effort, with wife Sandra, who runs the lock café playing a big part in the award for what she does to make the lock a special place. "I just tend the gardens and the lock. I am just doing my job. This is for the community". Steve does not know who nominated him for the award but is immensely proud.
Well deserved, Steve!