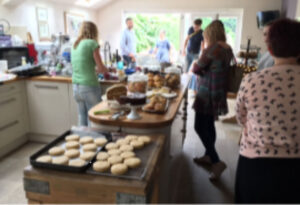 Nicky Males was in the middle of preparing for her first open house café when I spoke to her. As if that was not enough, she was also getting herself ready for the BBC who were coming to film her for one of their autumn programmes. Exciting stuff for Old Charlton Lane.
Nicky has a passion for organic baking, using flour from stone millers, without any additives.
In February this year she decided to start a regular weekly operation. She has been gradually growing her clientele for her range of breads since then, but now she was going a stage further. I went along to her first ever open house café and it was fabulous! From the moment the door opened at 12.30 until last customers left at 5pm she and her team of volunteers were rushed off their feet. "it was way more than I had expected" said Nicky. All in all, 70 people had come through the door. They chose from a range of savoury or sweet bakes, (including the most magnificent carrot cake I have ever seen – sadly sold out before I got to it), and a selection of fresh quiches, brioche buns and breads.
A range of hot and cold drinks were available and customers were invited to find a tranquil corner of the garden to enjoy their orders. The garden is magical, leading down to the Ash and had been set up with various seating areas, with cushions, vases of flowers and lights. The idea was to sit anywhere and talk to anyone, inviting the community to come together and enjoy some peaceful time and some delicious treats. It is a wonderful idea, one Nicky is repeating at the end of August, although numbers will be limited.
Baking is Nicky's passion. She loves trying new bakes and is never happier than seeing her produce appreciated. But the fact is this is a micro operation. That is what makes it special, but you don't treat it like dropping in to the supermarket. To keep in touch just subscribe to the newsletter on www.willowbakery.co.uk. You will get a weekly notification of what is baking that week and you can order and pick up on Fridays between 5-7pm. Meanwhile look out for Willow Bakery on Facebook and Twitter.
Nicky has lots of plans to extend her offerings and has some workshops already planned. How about stir up Sunday to get the BEST Christmas pud prepared this year?
If you are interested, remember to subscribe to the newsletter and keep in touch with this exciting venture in Shepperton.
Now, I'm off to collect my pecan brownies!