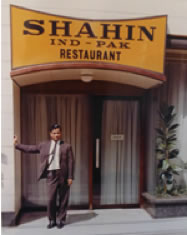 There are several business celebrating milestones in Lower Sunbury and who deserve congratulations. Top spot must go to The Shahin restaurant which has been serving up indian food in Thames Street for 50 Years. When it opened in 1965 such exotic flavours were not mainstream and they took the area by storm, gradually getting locals acclimatised to spice and graduating from Korma to Vindaloo! Current manager Shubin Haque is the nephew of Mahmadur Rashid who started the business. It is quite a feat to be running so long in both the same premises and under the same family. They are marking the occasion with an event on September 6th,
Bollywood style!
Twirltour in Green Street has also been introducing locals to the exotic, arranging trips to far and near. The life of a travel agent is full of the unusual. Richard Stanier says
"One of the most challenging requests was from a lady who was holidaying in Greece but who had an allergy to olive oil! She needed reassurance she would not starve."
The place Richard would pick as most unusual, which he steers travellers to Sri Lanka towards is Helga's Folly. It has been frequented by many a celebrity, getting away from the mundane. The website even warns "If expecting a usual hotel experience, you'd best look elsewhere!"
In Avenue Parade, Laura's Hair & Beauty marks 10 years. Laura says " It's been a tough journey, but one I wouldn't change." Her family have been a marvellous support and she is grateful to a fab team and wonderful clients. She will be holding a drinks do on September 26th from 2pm for her clients and everyone is welcome.
Round the corner, hair of a different nature has been preened for 5 years now. Yes, Grooming Gorgeous, the dog grooming salon, has gone from strength to strength. The latest achievement was being featured in Vogue! I remember meeting Emma and Dean at the
Sunbury Regatta when they were just starting out. My schnauzer Merlin is testament to their patience and care, strutting out of the salon like a supermodel. Seen above with Emma.
We must also mention The Warren Lodge in Shepperton which celebrates 50 years too.
Congratulations to all these local business. And thanks to local Sunbury residents for continuing to use local services. You make these milestones happen!