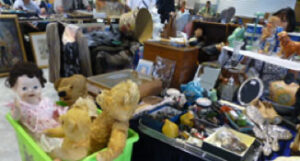 Sunbury is a destination on many a foreign visitors travel plans. Yes, really!
But the glorious Georgian houses and the pubs along Thames Street may not even get a look in. These visitors are off on a treasure hunt.
Every other week, thousands descend on Kempton Park for the Sunbury Antiques Fair. I had lived in the area for several years before I found out about it, yet the Asians, Americans and Europeans all seem to be in the know and make a bee line for it.
The market has been a regular fixture at Kempton since 1979 and is now recognised as one of the major antiques markets in Europe. There are some 700 market traders, both inside the grandstand area and outside by the racecourse. Dealers make the crossing twice a month from Europe, bringing a treasure trove of delights in their vans: farmhouse furniture, chandeliers and bric-a-brac.
Not only does the market attract those interested in the Antiques trade but it also appeals to general collectors or simply the curious browser. Stall holders tell me that many prop buyers scour the venue looking for the latest 'must have' trends. Likewise interior and exterior designers. When I was there, some bright young things were buying on behalf of Liberty of London. So you know where to look before heading up to the West End!
We wandered around taking it all in. There really is everything you could imagine…as well as one or two things you might not! We saw vintage clothes, lace, walking sticks and elegant handbags which must have graced a well dressed arm decades ago. There was jewellery galore – some expensive bits, but many very affordable. Boxes spilled over with dismembered dummies, once loved one-eyed teddies and startled dolls.
Outside you will find more of the larger items. We saw a couple of solid wooden bed steads for under £150 (yes, really worth coming here if you are looking to refurb) but the array of surprises continued. A man walked past with a large set of antlers slung over his shoulder, the bleached skull looking skywards. All things taxidermy are quite popular, I am told. There was apparently a stuffed Alsation head on one of the stalls, but I am rather glad I didn't find that.
So far, so not so bizarre. But surely the strangest item I saw that day, as I was heading back to the car, was a pair of buttocks in a carrying case with the instruction manual, described as an "Enema Simulation Kit". I wonder why no one had bought them….You never quite know what you might find! Do go along and have a look sometime and if you find something interesting, share your experience with Sunbury Matters.