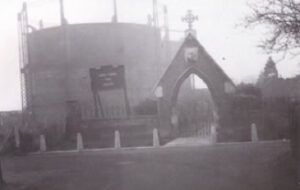 We always enjoy this bit! Do you remember…
Sunbury is full of people who are interested in the history of where they live. Many have lived here long enough to remember old houses, since demolished, and businesses converted to residential use.
After my piece on the child's walk through Sunbury last month, where I mentioned the Huguenot's being behind the name French Street, one reader called me and left me a message saying the piece had revived memories of old Sunbury. She said that Rope Walk was so named as it was where the Huguenots stretched out the ropes they were making. I did know Rope Walk was used for this, but not that it was used by the Huguenots.
Many other readers of course remember the swimming pool on Rivermead Island, but the younger residents may well wish it was still there…
Modern ways are useful as a forum to share such memories by means of old photos and we enjoy looking at postings on the Sunbury on Thames Facebook page. I was astounded recently to see a photo of a gasometer which apparently dominated the sky at Forge Lane. Sitting behind the entrance to the old cemetery, it looks even more out of place.
The Sunbury & Shepperton History Society is a treasure of knowledge, artefacts and photos.
This month's piece on George Wilson's boatyard is wonderful. I asked the Society about a memory a local resident had shared with me. Was there a windmill in Sunbury?
"Well of course there was" came the response "think of Windmill Road". Yes the road names are a bit of a give-away. But even the SSHS had never seen a photo of the windmill. So, does anyone out there have any evidence of it? We'd love to share.
Keep your stories, photos, memorabilia etc coming. You can either call 07979 808991 or email monica@villagematters.co.uk. We are happy to share through Sunbury Matters so we can all enjoy these reminiscences.