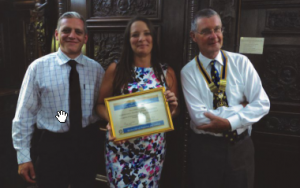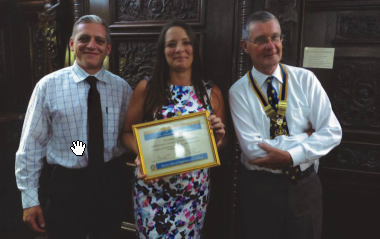 Congratulations to the three winners of this years Community Awards from Rotary Club of Sunbury & Shepperton. The evening was attended by the Deputy Mayor and his wife as well as local councillors Vivienne Leighton and Robin Sider.
Winners were as follows:
The Community Business Award was made to Café Mocha D. Bringing a continental touch to the High Street for 12 years, it is indisputably the village café. It has hordes of regulars and is the meeting place of choice for many.
There were two Voluntary Service Awards. The first was given to Spelthorne's Sunbury Flood Volunteers. Founder Alison Griffith decided in February that something had to be done to help with those affected by flooding. She stuck her neck out to get things moving, mobilising a force of volunteers. Her passionate belief was recognised by the Sunbury & Shepperton Rotary Club who made the first donation to the newly formed group, enabling them to buy waders and to get out to help vulnerable people who were stranded.
The second award in this category was for service to local sport, youth and community, Shepperton Slalom Canoe Club was recognised. GB coach Gordon Walling was delighted to accept the award. It is an organisation close to the heart of Rotary Chair Oliver Walker who was himself a canoeist. We will be featuring the club in a forthcoming magazine, but suffice to say that it is a club which has bred champions! In the recent championships held at Olympic site Lee Valley, a gold went to Mallory Franklin who trained at Shepperton.
The Rotary Club of Sunbury & Shepperton is one of the local clubs within International rotary, dedicated to helping communities. They support various local activities through fundraising and personal assistance. They are always looking for new members.
If you would like to get involved please contact Eric Painter: 01932 224533 or email ericpainter@btinternet.com