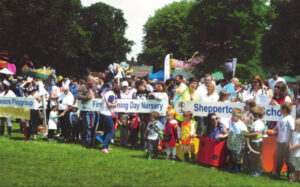 Well done to those of you who kept fingers crossed for the weather on Shepperton Fair Day. While Fair Day dawned with a very dodgy looking forecast, the storm gods cooperated with us. The rain slowed stall setup a little, but stopped on cue an hour before the Procession. As one of the biggest Processions on the Fair's 41 years made their way down the High Street, the day slowly but surely turned into a glorious summer's afternoon. 

The Procession featured nine entrants including the Sea Cadets and the Oatlands Pipe Band, all led by Harley-Davidsons from Hogsback Chapter.
The Procession prizes were awarded and the Fair was opened by Owen Miles of Curchods Estate Agency, a Platinum Sponsor for the Procession.
By the time the main attraction – the Essex Dog Display Team – began at 2pm, the usual thousands of people were present, many of whom had also been down to the riverside to watch the raft race entrants cross the finishing line.
We estimate that there were just under 5,000 people at peak, with up to a further 3,000 people enjoying different parts of the day.
The Fair site was a stallholder sell-out in 2014 and many charity stalls reported an excellent day. With valued support from Surrey Police and security staff, the alcohol-free policy this year also went down well, with many commenting on the great family atmosphere.
The Fair Committee are very grateful to the many sponsors, stallholders and Fairgoers that made this another great Borough event in the heart of Shepperton. As intended, the Fair Committee made enough to cover its £15,000 costs, leaving the charities and stallholders to benefit directly once again from the very large Fair footfall.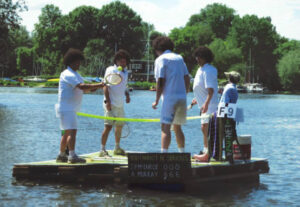 The raft race went well too. This year it the theme was Sports and Games and the rafts did not disappoint. We loved the 'Wimbledon' entry, complete with grass court!
Village Matters sponsored the photographic competition this year. As well as cash prizes the winning photos from the Open and Adult section have the additional honour of being used on the covers of the July issues of Shepperton and Village Matters. Congratulations to local Steve Owen. Well done to other entrants too. Watch out for future issues which may well be featuring other photos which caught our eye.
We hope to be sponsoring again next year, so make sure you take part!