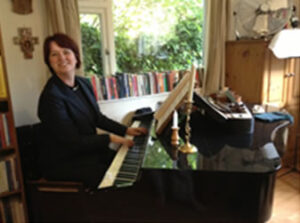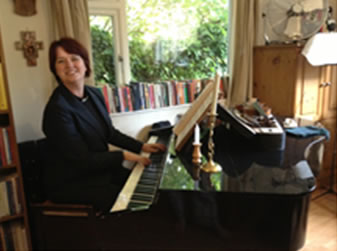 Meet Vicci Davidson. She has a warm laugh, a big personality and wears the highest heel shoes you can imagine! Vicci is the new Minister of Sunbury Methodist Church.
Even she would describe herself as the Imelda Marcos of Ministers (the first lady of Argentina famed for her thousands of pairs of shoes). Brought up on the Isle of Aran there were no shoe shops. You would either travel to the mainland or walk the 3 ½ miles to the local shops, then choose from a catalogue (one style, 3 colours and no you can't have the red ones because they won't go with anything…). Oh, and you had one pair a year! So, ask no more!
Vicci started a 5 year term in Sunbury last September. Her path to the Ministry is not perhaps a traditional one. She ran away to sea, serving with the Navy, worked as a session musician with Radio Three and spent many years as a musical director, directing operas and musicals. She toured festivals, including the Edinburgh Fringe and developed her career in teaching, singing and directing. She was also organist at the Church of Scotland!
The calling came later in life and Vicci spent two years training for the Ministry in Cambridge where she inevitably ran the Events Committee (You just can't keep a thespian down!). Since arriving in Sunbury she has been getting to grips with the area and working out what might benefit from tweaking in the Church. We have run several notices in Community Matters on clubs run at the church. It has a Community Hall available for hire for birthday parties, drama clubs and the like. The sports fellowship runs table tennis and badminton.
The philosophy is one of inclusion and welcome for all in the Community. There is an open prayer meeting where the focus is praying for tragedies currently featuring in the news. There is a Friendly Club for the over 60's where £3 will get you lunch, entertainment and friendship. The group currently comprises about 20-30 members. At the other end of the age spectrum, they have introduced Baby Basics, a scheme which works alongside midwives and health visitors to provide much needed items for vulnerable groups such as teenage mums, asylum seekers and women fleeing domestic violence. Basics starter packs are being provided for newborns. For some, these gifts may be the only items they have for their child.
Vicci would love to meet the community, so do go and say hello – Look out for the high heels under the gown…they are sure to be there!