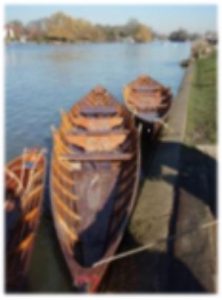 We are blessed in Walton to be close to water in any direction we turn. But we don't always know how to make the most of it. So here are a few thoughts.
Canoe and Kayak hire
Last year I had a memorable kayak trip up the Thames and around Desborough Island. It was great exercise and you see things from a different view being so close to the water. A kingfisher darted across Shepperton Marina as we set off. Swans stretched their wings and geese honked at us. As we came back, the sun was setting, and you couldn't wish for a more beautiful way of spending an evening.
You can hire a canoe or kayak from Whitewater Canoe Centre at Shepperton Marina. Full details of prices and options are at www.canoeandkayakthethames.co.uk
Thames Valley Skiff Club
Skiffing and punting for the competitive enthusiast or anyone looking to have fun and keep fit. Using fast traditional timber boats and lightweight best boat punts, Thames Valley Skiff Club is ideal for outdoor activities on the Thames all year round. Join their full season of regatta events including long distance, town, club and fun regattas. All ages and range of interests are welcome, from casual participants to British Rowing Medallists.
TVSC hosts a wide range of social events and pleasure boating activities at our comfortable clubhouse including a well-stocked bar, club changing rooms and showers. So, if you fancy having a go do please stop by the club around midday most Sundays throughout the year. Thames Valley Skiff Club end of Dudley Road Walton-on-Thames Surrey KT12 2JY Tel 01932 224215 info@tvsc.co.uk
Sailing
Located in West Molesey near Hampton Court on the Surrey/London border, the Island Barn Reservoir sailing club provides great sailing and water sports facilities for all ages. Family friendly they cater for all who want to sail, windsurf and paddle board from complete novices to world champions. The sailing club has many membership options with monthly payment plans as well as free to use club boats. There is also the Weybridge sailing club based in Dorney Gardens on Walton Lane.
Swimming
Apart from the obvious Elmbridge Excel, you may not know that there is an open swimming lake where hundreds take part in a refreshing dip every week from May to October. There are open water races and events during the season and in August they even do a night swim. This year they open on May 12th. You can find the down Ferry Lane, Shepperton by the Desborough Sailing club!
Thames Gourmet Dining
If you want to make the most of the river without the effort, but with a whole lot of luxury, how about this new idea. Enjoy a lunch/dining and cruising experience on a beautiful old yacht. Longer stays also possible. www.theriveryachtcafe.co.uk
Accessible Boat Trips
We even have a choice of accessible boat trips on offer. Impossible Dream is the opposite borough Spelthorne's community boat, offering accessibility to those with disability. You can get aboard from Cowey Sale, Walton.
The River Thames Boat Project also makes the Thames accessible to people of all ages and abilities. Operating out of Teddington, the boats pass through Sunbury lock and Shepperton going upstream. Www.thamesboatproject.org
Aqua Park
Yes, there is even an aqua park near us. Liquid Leisure opened quietly on a lake behind the Charlton Village car boot venue last August. You can clamber across a 400 square foot floating obstacle park or try stand up paddle boarding. www.liquidleisuresurrey.com