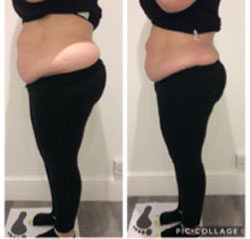 Beauty really is more than skin deep as we found out recently on a visit to the new beauty clinic in Lower Sunbury. The Practice Beauty Clinic is on Thames Street and is the brainchild of Sunbury resident and local GP Dr Saba Khan. She started the business in Walton on Thames in 2018 and the initiative proved so successful that when she found the perfect premises in the heart of Sunbury village, she felt compelled to bring it home.
The building, which was formerly offices, has undergone a major refurbishment and now has 7 treatment rooms with the latest cutting edge technology. Treatments offered include Skin Rejuvenation, Laser Hair removal, Professional Skin Peels, Body contouring and the Powerful Oxygen facial.
The entire service is overseen with Medical Supervision to CQC standards, ensuring that the service provides safe and regulated treatments by fully trained, registered and insured staff.
Due to the level of medical supervision required, many of the treatments are only available in a handful of clinics across London.
Dr Khan has wide medical experience gained through her work as a GP, an NHS GP Programme Director and a Senior Lecturer at St Georges university.
What is the difference between a beautician and an aesthetic clinic? Whereas the former offers beauty treatments such as relaxing facials and services such as waxing and tinting, a clinic offers services going more than just skin deep. If offers the chance to literally turn back time. So we went along to understand more about what is on offer and experience a treatment for ourselves.
The clinic is bright, clean and shiny with a discreet door from Thames Street. You are greeted by white gowned technicians. It feels very 'Harley Street'.
We were being treated to a Geneo super facial. Geneo offers four in depth treatments at the same time. It will exfoliate, infuse with revitalising serum, oxygenate and tighten. The treatment is conducted by a trained practitioner using a machine that will stimulate a natural response from the skin. Literally it will penetrate more than skin deep.
My skin felt very smooth and indeed seemed to be tighter. For optimum results the idea is to have a course of treatments and then to maintain monthly. But even this first treatment got me remarks from friends about how "fresh" I looked.
The lipofirm treatment looks impressive. This photo shows the difference after just one treatment so if you have an event you want to look slimmed down for, this is for you. (No, it is not me!)
This type of clinic is pretty special. It will do well and will attract clientele from far and wide to Lower Sunbury as the treatments offered are not widely available.
Saba is very excited about this venture. "Everyone leaves happy, with their dreams fulfilled".
What is there not to like about that?
 
Email – info@practicebeautyclinic.co.uk
Website – practicebeautyclinic.co.uk
Facebook https://www.facebook.com/PracticeBeautyClinic/
Instagram https://www.instagram.com/practicebeautyclinic/
73 Thames Street,
Sunbury on Thames,
TW16 6AD.
Tel 07534 761218