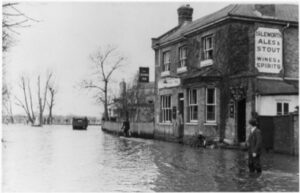 Currently being converted into flats, the former Shapla restaurant in Russell Road, Shepperton will soon a have new use. This is a building which has changed identity several times however. Before it was renamed Shapla, it was another restaurant called Opium V, and before that it was Crown Antiques for some years. Those who have lived in the area for a while may remember it best as The Crown public house though.
The Crown was built in 1866 by R.Hunt and Sons at a cost of £1135 6s and 11d (about £130,000 today) for William Farnell and Watson Ltd, later to become the Isleworth Brewery Company. Their name can be seen on the side of the building in the photo above. By the time the photo was taken however, the Isleworth Brewery had been taken over by Watney Combe Reid.
We can say this because the photo was taken during the 1947 floods, the worst in living memory, whereas the brewery had been taken over in 1924. It looks as if the pub itself narrowly escaped being flooded, although clearly the beer cellar must have been inundated.
Looking back further, The Crown had actually moved site to Russell Road. The original pub of that name was located in Chertsey Road, in a building which stood to the east of 'Mill Eyot', a large house which still exists. The old pub was referred to in licensing records as early as 1727, when the landlord was William Harrison, and survived for a while after the pub was moved to its new site (the 1871 census lists it as 'the Old Crown'), but after this date the building was demolished and its grounds merged with the garden of 'Mill Eyot'.
For further details see The History of Shepperton's Pubs by Nick and Sue Pollard.
'A Life Behind a Name' by Steve Packwood, the stories of some of the people commemorated on Sunbury War Memorial, is the subject of the next meeting of the Sunbury and Shepperton Local History Society. The meeting takes place on Tuesday 17th September at the Hazelwood Centre (London Irish) off Green Street, Sunbury, starting at 8pm. All welcome, admission £2 for non-members.