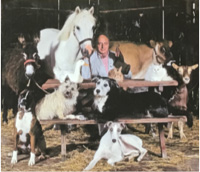 Visiting The Burlington in Manygate Lane, Shepperton recently, I was introduced to resident Marc de Henrie. It so happened that he had been persuaded to exhibit some of his works to share with locals and residents, on the occasion of National Care Home Open Day. Being a fan of photography myself I was enthralled with his work which featured celebrities with their dogs. Taking a portrait is hard enough to nail, but to get both subject and dog looking perfect is quite something.
As a child Marc found he had a connection with animals. When a couple of Alsatian guard dogs got loose, it was a 5 year old boy who calmly spoke to them and brought them under control while the owners were found. No one could believe what they saw. Marc has always felt an understanding of his four legged subjects and has them captivated when they sit for him. Anyone who has ever had any experience of photographing animals will recognise that his self portrait with animals is nothing short of miraculous!
Marc was given a camera by his father when he was only 8 and was shown how to set exposure and how to print. From an early age he learned to photograph family, friends and pets and it soon became apparent that he was rather good at it.
Through family connections he gained experience also in film production resulting in his first job which was at Bray Studios where Hammer Horror films were made in the 1950's. He learned how to mix chemicals and how create lighting. It was here that he took the portrait of his first star, Sophie Fellows and he started developing his own technique for lighting for film studios and sets. He had been given just one photographic plate as a test and used his own lighting technique (overlighting). The young Marc had impressed and his path was set.
This early experience was to lead him to work as official photographer to various leading film studios in California and his portfolio of portraits of screen icons grew and grew: Doris Day, David Niven, Audrey Hepburn, Jayne Mansfield, Paul Newman, Grace Kelly and Marilyn Monroe to name a few. He had bumped into Marilyn on set "Why do you look so sad?" she asked. "It's just how I am" replied Marc, so she invited the 18 year old to lunch. "That got people gossiping!" he told me.
His approach to photographing people was with reassuring calm, patience and interest. He put them at ease and as a result he found people opened up to him, allowing him to take candid and relaxed photos showing the real people behind the star names. While in London in the 60's he accompanied his employer to do a shoot of Jayne Mansfield. She kept them waiting hours, finally inviting them in to see her. She was dressed in her negligé and the photos from that shoot were the last ones taken before her tragic death.
Marc went on to become a recognised specialist in animal photography. He photographed Princess Anne with her beloved bull terriers and clumber Spaniels. He says that she was very pleased because he made them look quite human! Princess Anne was in fact so pleased that she asked Marc to return and photograph her family for their Christmas cards for 2 consecutive years.
He has officiated as photographer at Crufts and also to the Kennel Club. His work has been used in numerous adverts, on television, in magazine articles and in books.
What a life!